Grilled Shrimp with Sweet Hot Sauce
The orange zest brings out deep, sweet flavors in the sauce. Because of its high smoke point, canola oil can take the heat on the grill.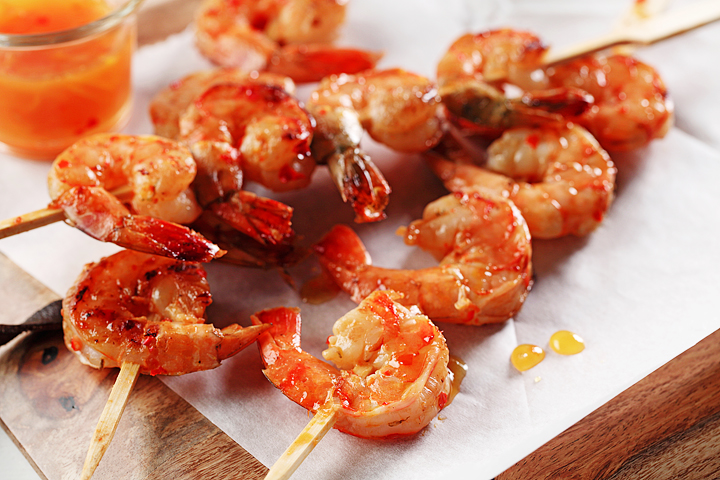 Ingredients
1 lb medium raw shrimp, peeled and deveined, tail on 500 g
8 bamboo or metal skewers (10 inches/25 cm long)
Marinade
1 tsp chili sauce with garlic 5 mL
1 Tbsp granulated sugar 15 mL
2 tsp cider vinegar 10 mL
2 tsp canola oil 10 mL
1 Tbsp orange juice 15 mL
Sauce
2/3 cup orange juice 150 mL
1/4 cup granulated sugar 60 mL
2 Tbsp rice vinegar 30 mL
1 Tbsp canola oil 15 mL
1 tsp chili sauce with garlic 5 mL
1/2 tsp salt 2 mL
1 tsp orange zest 5 mL
2 tsp grated fresh ginger 10 mL
canola oil cooking spray
Instructions
1. In small bowl, combine marinade ingredients and set aside. Thread shrimp on eight 10-inch (25 cm) metal or bamboo skewers in "C" fashion. Brush with marinade and let stand 15 minutes in refrigerator.
2. Meanwhile, in small saucepan, combine sauce ingredients, except zest and ginger. Bring to a boil over high heat and boil 3 to 4 minutes or until reduced to 1/2 cup (125 mL). Remove from heat and let cool. Add zest and ginger.
3. Coat grill pan with canola oil cooking spray and place over high heat until hot. Remove shrimp from marinade; discard marinade. Cook shrimp 2 minutes on each side or until opaque in center. Remove from heat. Brush sauce on shrimp or serve alongside as light dip.
Tip: The sauce also goes well with grilled pork, chicken breast or fish fillets.
Yield
4 servings
serving size
2 skewers
nutritional analysis
Per Serving
Calories
255
Total Fat
7 g
Saturated Fat
1 g
Cholesterol
185 mg
Carbohydrates
21 g
Fiber
0 g
Protein
25 g
Sodium
640 mg