Mint Lemonade Glazed Grilled Shrimp
This recipe brings the flavors and aromas of lemonade with a subtle hint of mint to grilled shrimp.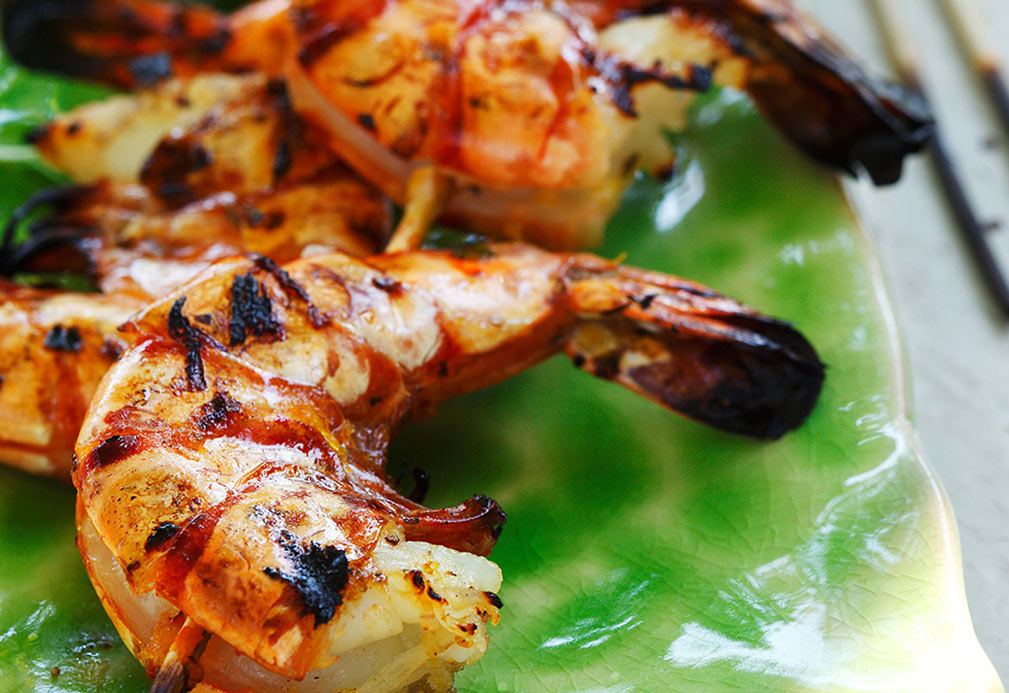 Ingredients
1 Tbsp finely minced lemon zest, packed 15 mL
1/3 cup freshly squeezed lemon juice 75 mL
1/3 cup honey 75 mL
2 Tbsp canola oil 30 mL
2 tsp finely chopped fresh mint 10 mL
1/2 tsp kosher salt, or to taste 2 mL
1/4 tsp freshly ground black pepper, or to taste 1 mL
20 jumbo raw shrimp, peeled and deveined, tails on
8 bamboo skewers, soaked in water for 30 minutes
Instructions
1. Whisk together zest, lemon juice, honey, canola oil, mint, salt and pepper. In airtight container, place 2/3 cup (150 mL) mixture and refrigerate; reserve for sauce.
2. Skewer shrimp, and place in shallow dish; add remaining marinade. Cover and marinate in refrigerator for up to 1 hour; turn as needed to evenly coat.
3. To make sauce, remove reserved marinade from refrigerator, and boil in small saucepan over high heat until slightly thickened, about 1 to 2 minutes; set aside.
4. Preheat grill to medium. Clean it with stiff brush, then rub with canola oil. Remove shrimp skewers from marinade, and shake off excess. Discard marinade. Season shrimp with salt.
5. Grill until lightly charred on the outside and just cooked through, about 2 minutes per side; if marinade starts to burn, move to cooler part of grill. Spoon sauce over shrimp, and serve hot or at room temperature.
Variation: Marinade also delicious for fish, lobster or lamb chops. Marinate fish and lobster up to 45 minutes and lamb chops up to 4 hours.
Yield
4 servings
serving size
nutritional analysis
Per Serving
Calories
137
Total Fat
5 g
Saturated Fat
0 g
Cholesterol
53 mg
Carbohydrates
16 g
Fiber
0 g
Protein
7 g
Sodium
212 mg