Grilled Tuna Nicoise Salad
This light dish is a great choice for a summer luncheon or al fresco dinner.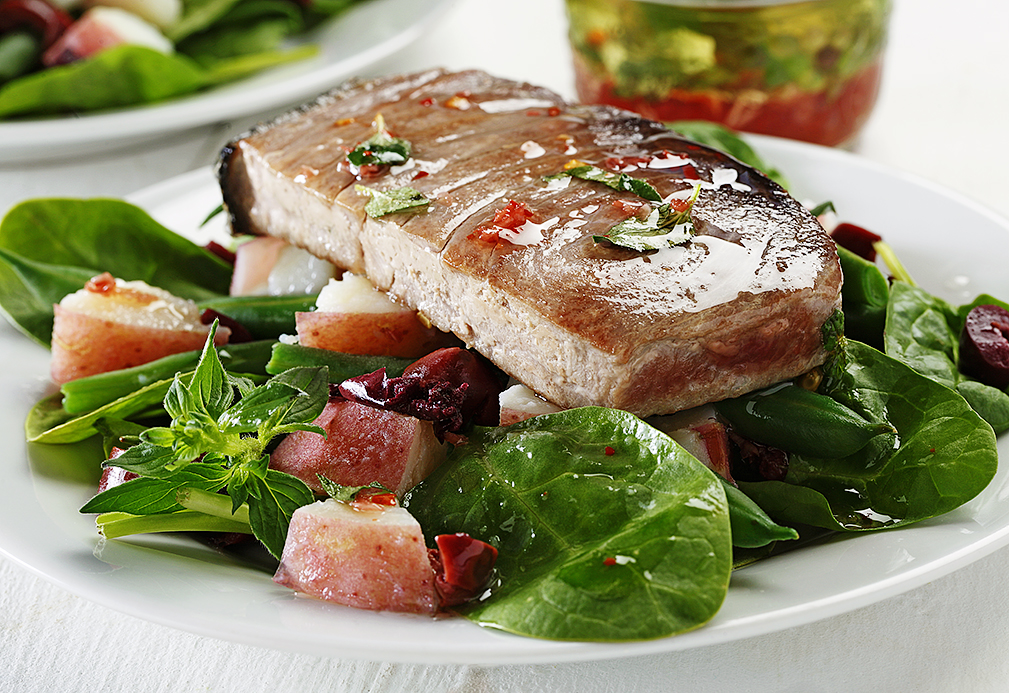 Ingredients
Salad
3/4 lb small red potatoes, diced 350 g
1/2 lb green beans, trimmed 250 g
4 tuna steaks ( 4 oz/125 g each, about 3/4-inch thick)
Canola oil cooking spray
4 cups (2 oz/57 g) baby spinach leaves 1 L
16 pitted kalamata olives, coarsely chopped
Vinaigrette
2 Tbsp canola oil 30 mL
2 Tbsp red wine vinegar 30 mL
1 Tbsp water 15 mL
1/8 tsp salt .5 mL
1/2 medium clove garlic, minced 1/2
1/8 tsp dried red pepper flakes .5 mL
1 Tbsp chopped fresh oregano leaves or 1 tsp (5 mL) dried oregano leaves 15 mL
Instructions
1. Steam potatoes and green beans 6 minutes or just until tender. Drain and rinse with cold water, shaking off excess liquid.
2. While vegetables cook, combine vinaigrette ingredients in a small jar, secure with lid, and shake well to blend completely. Set aside 1/4 cup (60 ml) vinaigrette and brush remaining vinaigrette (1 Tbsp/15 mL) over fish.
3. Coat a grill pan with canola oil cooking spray and heat over medium-high heat until hot. Grill tuna over high heat 3 minutes on each side or until medium-rare or desired degree of doneness. (Do not overcook or fish will be tough.)
4. Divide greens equally on four serving plates. Arrange potatoes, green beans, and olives over greens. Drizzle 1 Tbsp (15 mL) vinaigrette evenly over each salad and top with tuna.
Fresh tip: Fish is always best if purchased and prepared the same day.
 
Yield
4 servings
serving size
1 1/2 cups (375 mL) and 1 tuna steak
nutritional analysis
Per Serving
Calories
345
Total Fat
14 g
Saturated Fat
2 g
Cholesterol
40 mg
Carbohydrates
26 g
Fiber
5 g
Protein
29 g
Sodium
280 mg