Artichoke and Spinach Rotini Salad with Tuna
This is an interesting alternative to traditional pasta salad with a ton of great vegetables and flavors to satisfy any palate.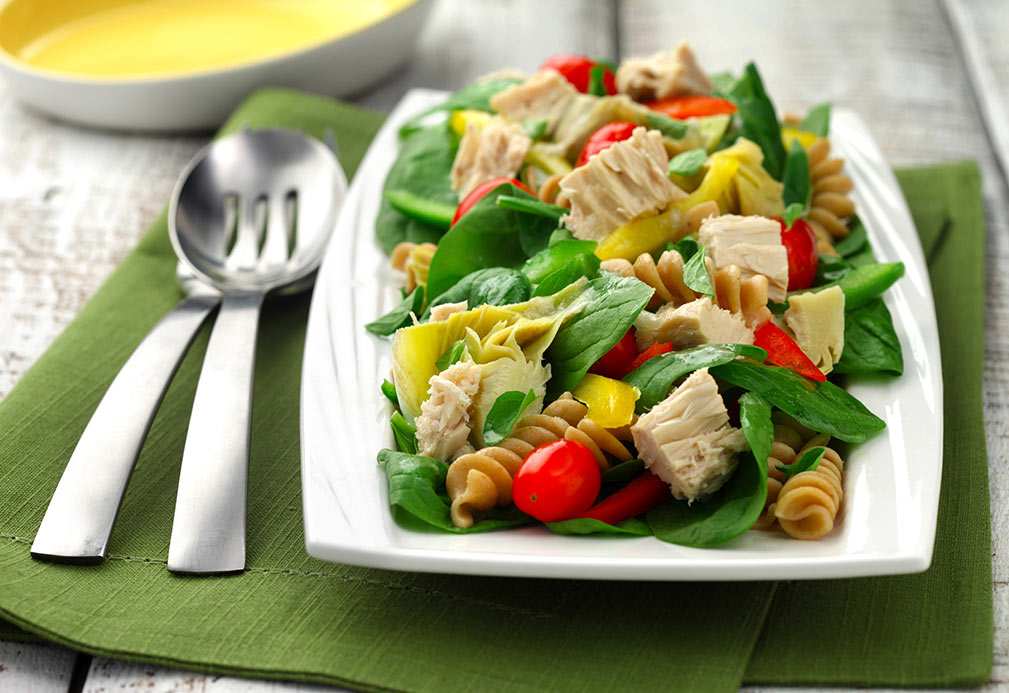 Ingredients
4 oz dry whole grain rotini 125 g
1 package (14 oz) frozen artichoke hearts 398 mL
2 cups baby spinach (about 1 oz/30 g total) 500 mL
1 cup grape tomatoes, halved 250 mL
1/2 cup diced green bell pepper 125 mL
1/2 cup diced red or yellow onion 125 mL
1 1/2 Tbsp (20mL) chopped fresh oregano or 1 1/2 tsp (7 mL) dried oregano, crumbled 
2 medium garlic cloves, minced
1 Tbsp granulated sugar 15 mL
2 Tbsp canola oil 30 mL
2 Tbsp cider vinegar 30 mL
1 can (5 oz)) low-sodium tuna, rinsed and drained, preferably albacore 140 g
Instructions
1. Cook pasta according to package directions, omitting any salt or fat.
2. Cook artichoke hearts according to package instructions. Once cool, cut each artichoke heart into quarters. In large bowl, gently stir together spinach, artichokes, grape tomatoes, green pepper, onion, oregano, garlic, sugar, canola oil and vinegar.
3. Drain pasta in colander and run under cold water to cool quickly. Shake off excess liquid. Stir into spinach mixture and sprinkle tuna evenly over all.
Yield
4 servings
serving size
1 cup (250 mL)
nutritional analysis
Per Serving
Calories
290
Total Fat
10 g
Saturated Fat
1 g
Cholesterol
10 mg
Carbohydrates
35 g
Fiber
12 g
Sugars
6 g
Protein
17 g
Sodium
115 mg
Potassium
253 mg