Hash Browns with Ham and Chunky Vegetables
This hot and hearty fare will bring comfort with every bite.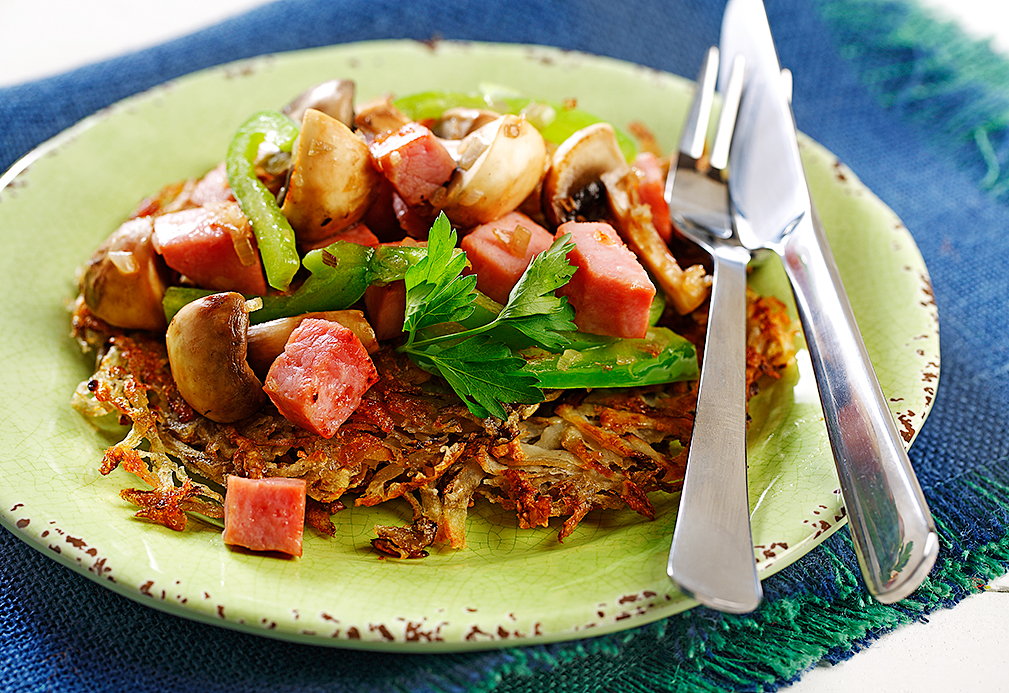 Ingredients
Hash Browns
2 medium baking potatoes (12 oz/340 g total), shredded, rinsed, and patted dry with paper towels
1/4 cup finely chopped onion 60 mL
2 large egg whites
1/8 tsp salt 0.5 mL
2 Tbsp canola oil 30 mL
Topping
canola oil cooking spray
1 1/4 cups (6 oz/170 g) diced lean ham 300 mL
1/2 of 8-ounce pkg whole mushrooms, quartered
1 large shallot, finely chopped
1/2 of medium green bell pepper, thinly sliced, and cut into 2-inch-long pieces
1/4 cup chopped fresh parsley leaves 60 mL
Instructions
1. In medium bowl, combine potatoes with onion, egg whites, and salt.
2.  In large skillet over medium-high heat, heat canola oil until hot. Spoon potato mixture into four mounds in the skillet. Press down lightly on mounds with back of a spatula to level, making patties about 4 inches in diameter. Cook, uncovered, 7 minutes or until bottom is crisp. Gently turn and cook 6 to 7 minutes or until golden.
3. Meanwhile, put medium skillet over medium-high heat until hot and coat with canola oil cooking spray. Add ham, cook, and set aside. Re-coat same skillet with cooking spray and add mushrooms, shallot, and bell pepper. Coat vegetables with cooking spray and cook 3 minutes or until they just begin to richly brown on edges. Add ham, cover and set aside.
4. When potatoes are cooked, place on individual plates and spoon equal amounts of mushroom mixture on top of each. Sprinkle with parsley.
Tip: Shred the potatoes first, then rinse and pat them dry before adding the other ingredients, allowing egg white mixture to adhere to the potatoes. Lightly coating the other vegetables with canola oil cooking spray keeps them moist and browns them evenly.
Yield
4 servings
serving size
1 hash brown
nutritional analysis
Per Serving
Calories
225
Total Fat
8 g
Saturated Fat
1 g
Cholesterol
20 mg
Carbohydrates
25 g
Fiber
3 g
Protein
13 g
Sodium
565 mg