Layered Spinach and Quinoa Salad
This colorful salad is equally attractive and tasty whether assembled in layers in a clear glass bowl or simply tossed altogether. The combination of yogurt, cheese, vegetables and grains makes for a well-balanced vegetarian meal. Canola oil's low saturated fat content keeps the dressing free-flowing in the refrigerator.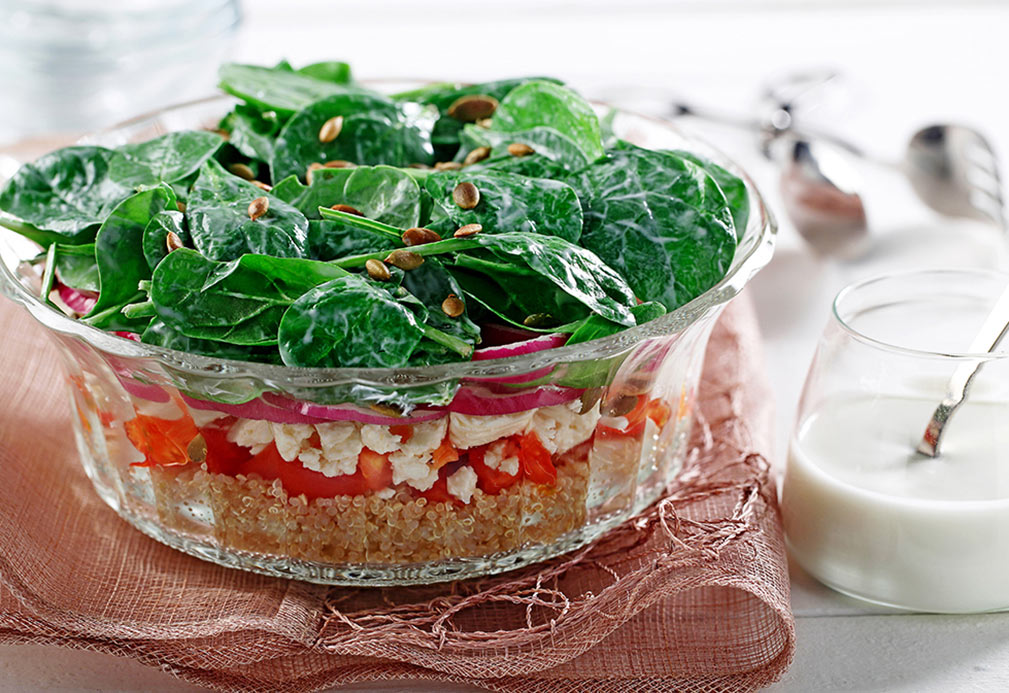 Ingredients
3/4 cup plain Greek yogurt 175 mL
2 Tbsp canola oil 30 mL
4 Tbsp freshly squeezed lemon juice 4 Tbsp
1 Tbsp granulated sugar 15 mL
1/2 tsp salt 2 mL
4 cups chopped fresh spinach 1L
1/2 cup chopped red onion 125 mL
2 cups cooked quinoa or whole grain of your choice 500 mL
2 cups chopped tomatoes 500 mL
3/4 cup crumbled feta cheese 175 mL
1/4 cup toasted pumpkin seeds 60 mL
Instructions
For dressing: In glass jar or container with lid, shake together yogurt, canola oil, lemon juice, sugar and salt.
1. In large bowl, toss spinach with 3 tablespoons of dressing and spoon into bottom of clear serving bowl. Sprinkle onions on top to form second layer of salad.
2. In large bowl, combine quinoa with 3 tablespoons of dressing and spoon atop onion layer. Sprinkle tomatoes, feta and pumpkin seeds on top and drizzle with remaining dressing. Serve immediately.
Yield
6
serving size
1 cup (250 mL)
nutritional analysis
Per Serving
Calories
280
Total Fat
17 g
Saturated Fat
6 g
Cholesterol
20 mg
Carbohydrates
23 g
Fiber
3 g
Sugars
7 g
Protein
10 g
Sodium
440 mg
Potassium
402 mg