Lemon Cucumber Quinoa
The crunch of cucumber meets hearty quinoa in this bright, light dish that makes for a satisfying meal or side dish on-the-go. Canola oil carries the flavors of the salad while adding a healthy dose of plant-based omega-3 fat.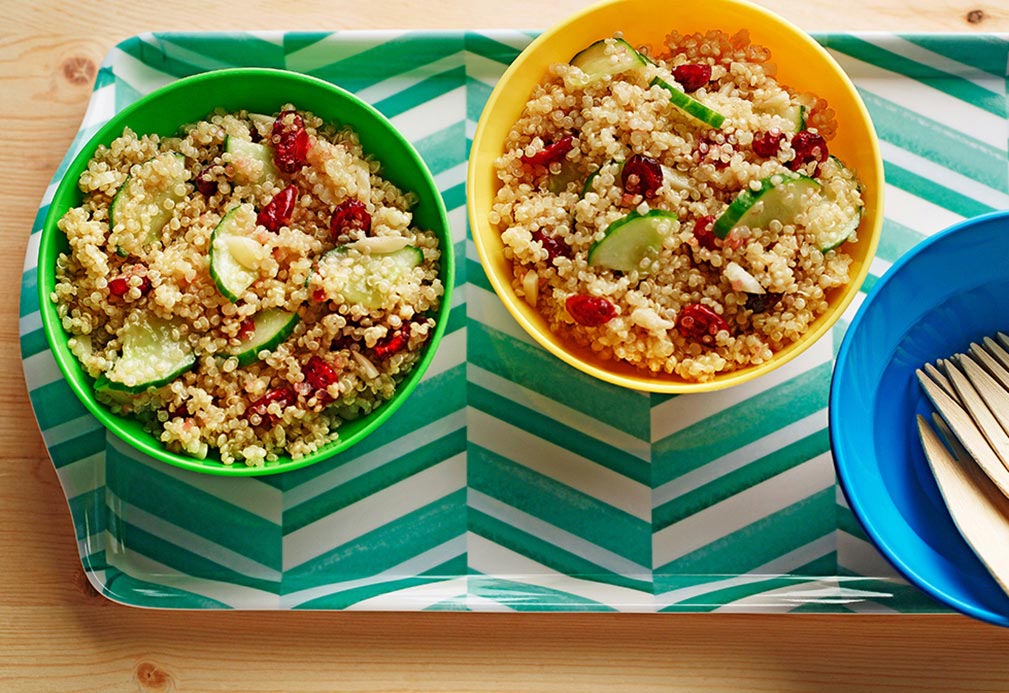 Ingredients
1 cup white quinoa 250 mL
2 cups low-sodium vegetable broth 500 mL
1/2 cup cucumber slices, cut into quarters 125 mL
2 Tbsp canola oil 30 mL
1/4 cup slivered almonds 60 mL
1/2 cup dried cranberries 125 mL
1/2 lemon, juiced (about 2 Tbsp/30 mL)
Instructions
1. In fine sieve, rinse quinoa well under cool water. Drain well.
2. In large pot, boil vegetable broth over medium heat. Cook quinoa in broth until tender but still firm, about 15 minutes. It's done when germ separates, making it look like a curlicue. Drain well and return quinoa to pot off heat. Cover with tea towel and replace lid, allowing quinoa to steam and produce fluffy texture as it cools.
3. In salad bowl, toss quinoa with remaining ingredients. Chill and pack to go!
Yield
3 1/2 cups (875 mL)
serving size
3/4 cup (175 mL)
nutritional analysis
Per Serving
Calories
254
Total Fat
10 g
Saturated Fat
1 g
Cholesterol
0 mg
Carbohydrates
35 g
Fiber
4 g
Sugars
11 g
Protein
6 g
Sodium
58 mg
Potassium
256 mg