Mexican Cilantro Bean Spread with Home Fried Taco Chips
This is a great appetizer to take to your next get-together.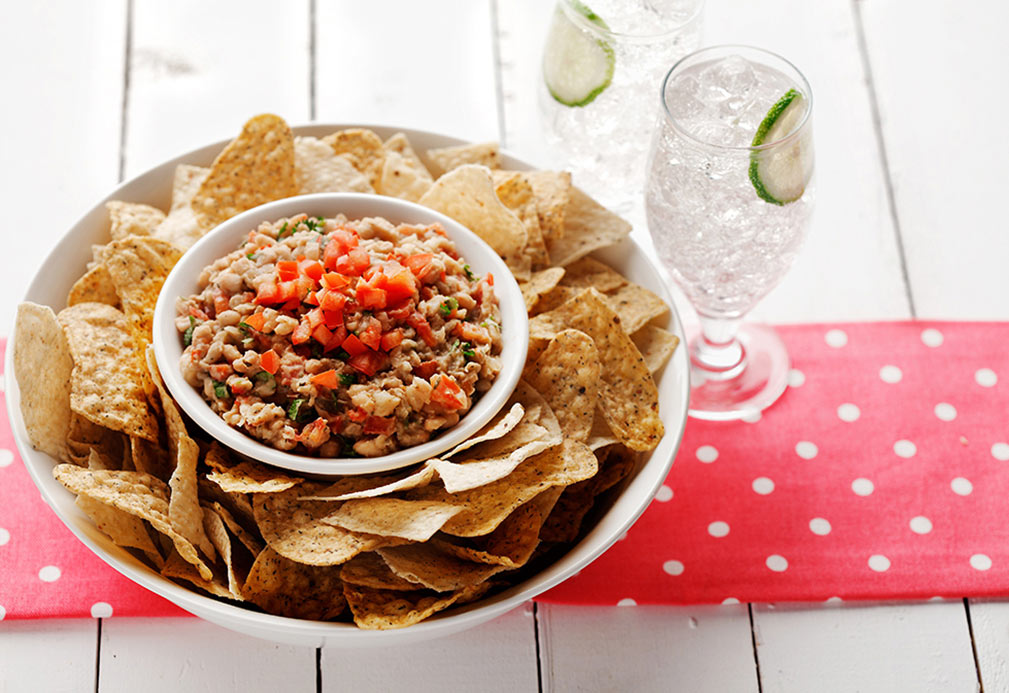 Ingredients
2 to 3 Tbsp canola oil 30 to 45 mL
1 onion, finely chopped
2 garlic cloves, minced
1 can (19 oz/540mL) white navy beans, rinsed and drained
1/2 tsp minced chipotle chile pepper 2 mL
1/2 tsp cumin 2 mL
1 tsp oregano 5 mL
1/3 cup chopped red pepper 75 mL
1/4 to 1/3 cup low-sodium chicken stock 60 to 75 mL
2 Tbsp cilantro, finely chopped 30 mL
1 Roma tomato, finely chopped
1/2 tsp salt 2 mL
1/4 tsp pepper 1 mL
8 corn tortillas
Salt to taste
canola oil for frying
1/4 tsp pepper 1 mL
Instructions
1. To make bean spread, heat canola oil in sauté pan over medium-high heat. Add onion and garlic; sauté until transparent. Add beans, chipotle chile pepper, cumin, oregano and red pepper. Heat 4 minutes.
2. Mash beans with potato masher or back of wooden spoon. Add chicken stock as needed to desired consistency. Add cilantro and tomato. Season with salt and pepper to taste. Serve with fried taco chips.
3. To make taco chips, heat canola oil in large, heavy-based pan to 375 ºF (190 ºC).
4. Arrange tortillas in stack; cut into 6 equal wedges.
5. Fry tortillas, turning once, in batches and without crowding, for 1-2 minutes or until crisp and golden. Drain on paper towels. Season with salt.
6. Serve bean spread with chips and store extra chips in air-tight container.
Yield
24 servings
serving size
2 Tbsp (30 mL) bean spread with 2 taco chips
nutritional analysis
Per Serving
Calories
110
Total Fat
6 g
Saturated Fat
0 g
Cholesterol
0 mg
Carbohydrates
11 g
Fiber
3 g
Protein
3 g
Sodium
75 mg