Moroccan Ground Lamb Kebabs with Preserved Lemon Tabbouleh
Looking for something more exotic than the standard fare of burgers and steaks for Father's Day? Here are some mildly spiced and aromatic kebabs for your barbecue. Pair them with a roasted pepper-lemon tabbouleh and pita bread and these kebabs will be a hit! Canola oil's mild taste won't interfere with the dish's bevy of fresh herbs and spices.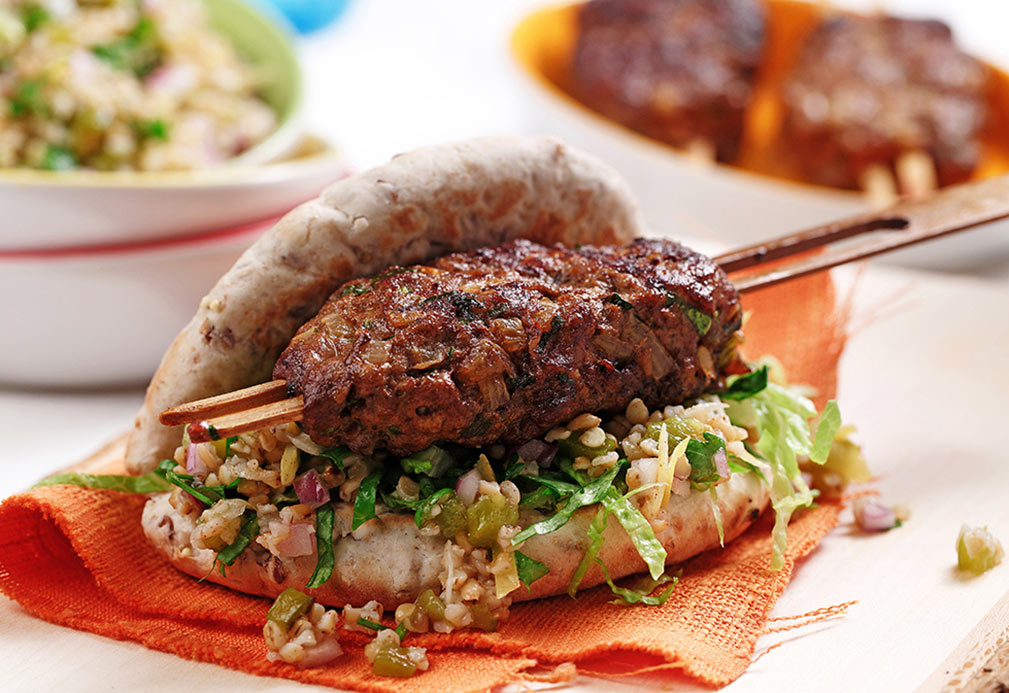 Ingredients
Moroccan Ground Lamb Kebabs
2 Tbsp canola oil 30 mL
2 onions, finely chopped
3 garlic cloves, finely minced
2 lbs lean ground lamb (or substitute lean ground beef) 1 kg
1/2 cup finely chopped fresh mint leaves 125 mL
1/2 cup finely chopped cilantro 125 mL
1 Tbsp finely minced ginger or ginger paste 15 mL
1 Tbsp finely minced green chilies or green chili paste 15 mL
1 tsp cayenne 5 mL
1 Tbsp cumin 15 mL
1 Tbsp coriander 15 mL
1 Tbsp paprika 15 mL
1/2 tsp cinnamon 2 mL
1/2 tsp cardamom 2 mL
1 Tbsp sea salt 15 mL
1 Tbsp canola oil, for brushing 15 mL  
Preserved Lemon Tabbouleh
1/2 cup fine bulgur wheat 125 mL
3/4 cup boiling water 175 mL
1 tsp salt 5 mL
1 Anaheim chili pepper, roasted, peeled and seeded
3 lemons
1/2 cup minced flat leaf parsley 125 mL
2 garlic cloves, minced
1/2 small red onion, finely chopped
1 tsp salt 5 mL
1 tsp cumin 5 mL
1/2 tsp cinnamon 2 mL
2 Tbsp fresh lemon juice or to taste 30 mL
3 Tbsp canola oil 45 mL
2 tsp finely diced preserved lemon (optional) 10 mL  
Instructions
Moroccan Ground Lamb Kebabs
1. In medium skillet, heat canola oil and sauté onions until translucent and soft. Add garlic and sauté 1 minute. Remove and cool.
2. In large bowl, add ground lamb, all herbs, spices and cooled onion mixture. Mix well. Cover and refrigerate 2 to 3 hours.
3. Shape about 1 cup (250 mL) of lamb mixture into thick sausages around length of flat metal skewers, making sure meat is spread to even thickness, flattened along length of sausage kebab. Repeat with remaining meat. Place on baking tray and cover loosely with plastic wrap. Refrigerate until ready to grill.
4. Preheat grill to high heat. Brush grate well with canola oil and arrange kababs on grill. Cook 10 minutes, or until desired doneness, turning as needed to brown evenly. Serve with pita bread and Roasted Anaheim Pepper and Preserved Lemon Tabbouleh.
Roasted Anaheim Pepper and Preserved Lemon Tabbouleh
Notes of lemon sing loud and clear in this light grain salad – a great accompaniment to grilled meats. Canola oil's neutral taste stands back and lets all the flavors meld.
1. In medium sized, heat-proof bowl, add bulgur wheat, boiling water and 1 tsp (5 mL) salt. Stir and allow to sit at room temperature 20 to 30 minutes or until wheat has softened. 
2. Finely dice chili pepper and set aside. Remove peel of 2 lemons with lemon peeler, being careful not to include pith. Bring small pot of water to boil and blanch lemon zest 2 minutes. Drain, cool and finely chop. Juice half of third lemon (about 2 Tbsp/30 mL). 
3. In bowl, add bulgur wheat, pepper, lemon peel, parsley, garlic, onion, 1 tsp (5 mL) salt, cumin, cinnamon, lemon juice, canola oil and preserved lemon. Toss well. Cut remaining lemon half into wedges and serve as garnish. Serve at room temperature.
Yield
8 kebabs and 2/3 cup Lemon Tabbouleh
serving size
1 kebab
nutritional analysis
Per Serving
Calories
390
Total Fat
32 g
Saturated Fat
12 g
Cholesterol
85 mg
Carbohydrates
4 g
Fiber
1 g
Protein
20 g
Sodium
950 mg