Grilled Chimichurri Beef Kebabs
Fresh herbs, citrus and spices are blended together with oil to create both the perfect marinade and sauce for just about anything.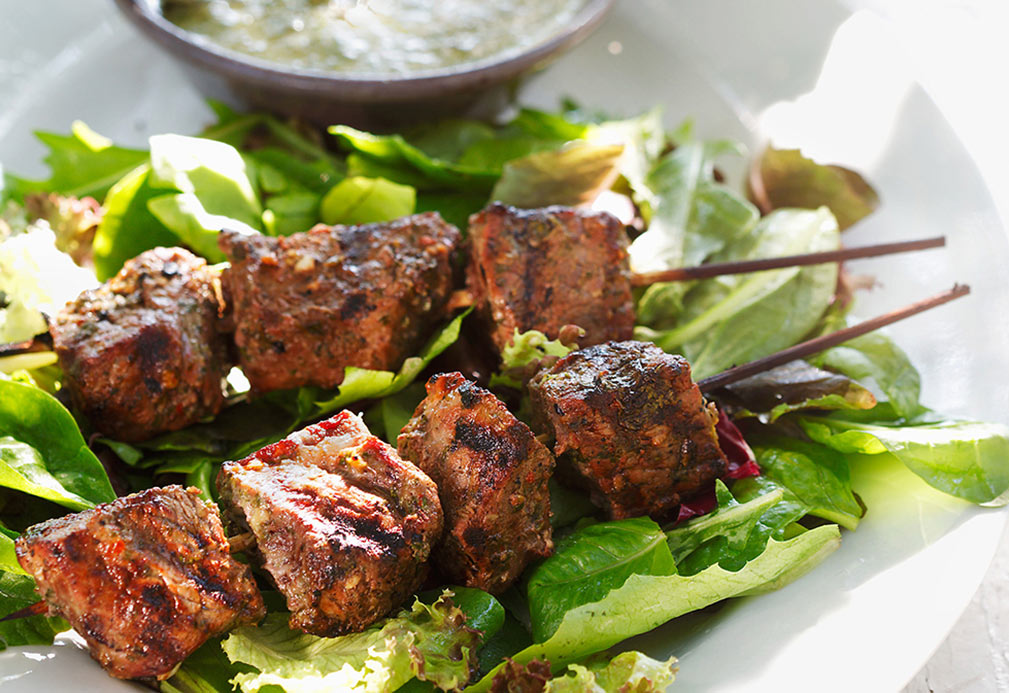 Ingredients
1/3 cup freshly squeezed lemon juice 75 mL
3 cups fresh cilantro, packed 750 mL
3 garlic cloves
1 tsp crushed red pepper flakes, or to taste 5 mL
1 tsp dried oregano 5 mL
1 tsp kosher salt, or to taste 5 mL
1/2 cup canola oil 125 mL
1 1/2 lb sirloin steak or beef tenderloin 750 g
8 bamboo skewers, soaked in water for 30 minutes
Instructions
1. In blender, combine and process lemon juice, cilantro, garlic, pepper flakes, oregano, salt and canola oil until thick puree is formed. Taste and season with pepper flakes and salt as desired. Place 2/3 cup (150 mL) puree in airtight container and refrigerate; reserve for sauce.
2. Cut beef into 1 1/2-inch (4 cm) cubes. Place cubes in resealable plastic bag with remaining puree; squeeze out excess air. Marinate in refrigerator for at least 4 hours or overnight; turn as needed to evenly coat.
3. Preheat grill to medium-high. Clean it with stiff brush, then rub with canola oil. Remove beef cubes from marinade, and thread onto skewers; leave a bit of space between cubes. Discard marinade. Sprinkle beef kebabs with salt to taste.
4. Grill until nicely charred on outside with defined grilling marks, about 2 minutes per side for medium-rare, 3 minutes per side for medium, and 4 minutes per side for medium-well. Drizzle some reserved chimichurri sauce over kebabs, and serve hot or at room temperature. Serve remaining sauce on side.
Variation: Chimichurri is equally delicious as both a marinade and sauce for grilled flank steak, skirt steak, strip steak, pork chops, or loin, chicken - even tuna! Marinate beef, pork and chicken at least 4 hours or overnight and fish up to 1 hour.
Tip: Grilled Chimichurri Beef Kebabs are delicious served with green salad, crusty bread and roasted potatoes.
Yield
4 servings
serving size
nutritional analysis
Per Serving
Calories
408
Total Fat
28 g
Saturated Fat
4 g
Cholesterol
98 mg
Carbohydrates
4 g
Fiber
0 g
Protein
36 g
Sodium
394 mg