North African Lamb with Chickpeas and Couscous
This recipe is filled with delicious, exotic flavors that are sure to please the senses.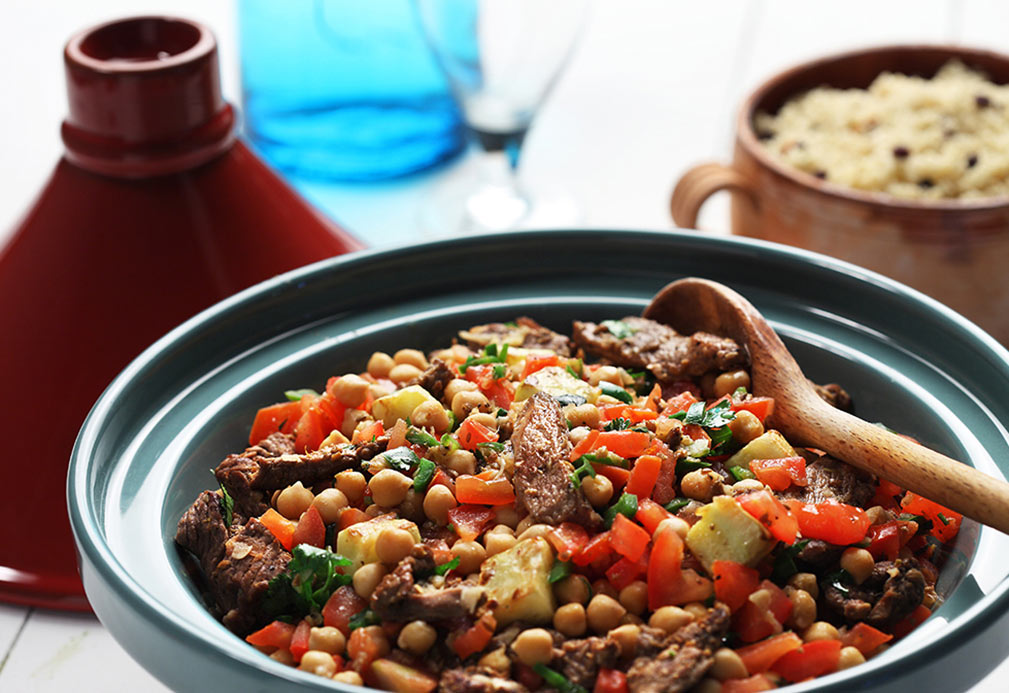 Ingredients
1 large eggplant, cut into 1-inch (2.5 cm) pieces
2 tsp salt 10 mL
1 lb lamb leg, boned, trimmed and cut into 1/4 inch (0.6 cm) strips 500 g
1 1/2 Tbsp coriander seeds, crushed 20 mL
1/2 tsp cumin seeds, crushed 2 mL
1 tsp grated nutmeg 5 mL
1/4 tsp black pepper 1 mL
1/2 tsp salt 2 mL
3 Tbsp canola oil 45 mL
1-2 jalapeño peppers, seeded and finely chopped
2 Tbsp grated fresh ginger 30 mL
2 cloves garlic, minced
1 tsp vinegar 5 mL
6 Roma tomatoes, seeded and finely chopped
1 can (19 oz/540 mL) chickpeas
2 Tbsp freshly chopped parsley 30 mL
1 Tbsp freshly chopped cilantro 15 mL
4 cups cooked couscous 1 L
Instructions
1. Place eggplant in colander over sink. Sprinkle with salt and let sit 20 to 30 minutes.
2. Meanwhile, rub lamb strips with mixture of coriander, cumin, nutmeg, pepper and salt.
3. In large non-stick skillet, heat 2 Tbsp (30 mL) canola oil over medium high heat. Sauté lamb strips until cooked through 6 to 8 minutes.
4. Rinse eggplant under cold water and squeeze out excess moisture.
5. Add 1 Tbsp (15 mL) canola oil to lamb in skillet. Add eggplant to lamb strips and cook for about 2 to 3 minutes. Add jalapeño peppers, ginger, garlic and cook for 1 minute. Add vinegar and tomatoes. Cover and let simmer over medium heat for 10 to 15 minutes. Stir once or twice during cooking time. Stir in chickpeas. Heat through. Stir in parsley and cilantro. Serve with couscous.
Yield
8 servings
serving size
1 generous cup (250 mL)
nutritional analysis
Per Serving
Calories
300
Total Fat
10 g
Saturated Fat
1.5 g
Cholesterol
35 mg
Carbohydrates
35 g
Fiber
7 g
Sugars
5 g
Protein
19 g
Sodium
500 mg
Potassium
503 mg