Phyllo Pastry Cups
Quick and easy phyllo cups.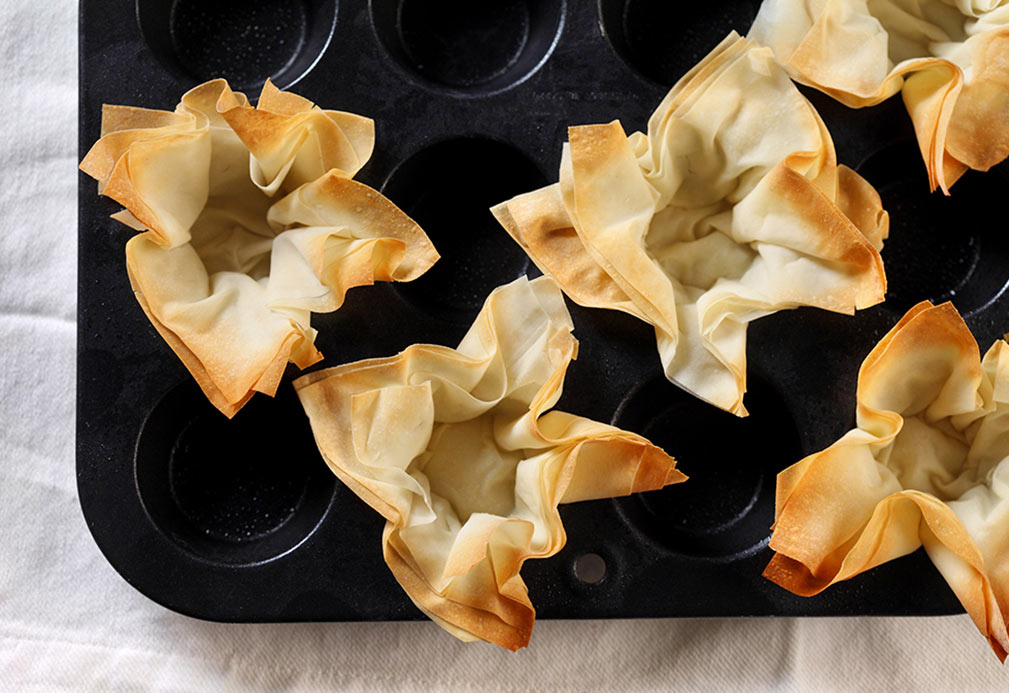 Ingredients
4 sheets phyllo pastry
Canola oil spray
Instructions
1. Defrost phyllo pastry.
2. Lay one sheet of pastry on countertop and spray with canola oil.
3. Place second sheet of phyllo pastry over top. Continue layering and spraying with oil, until there are 4 layers of pastry.
4. Cut pastry squares 3 x 3 inch (7 x 7 cm).
5. Lightly spray 2 mini muffin pans. Line muffin cups with the square of pastry, alternating cups so that there is enough room for the pastry.(Place six, 4 layer phyllo pastry squares into each muffin pan.)
6. Bake cups at 375 °F (190 °C) for 5 minutes or until nicely browned.
Note: The pastry squares can also be cut before spraying with canola oil spray. The squares can then be slightly off-set, when layering to obtain a more decorative appearance.
Yield
12 phyllo cups
serving size
1 phyllo cup
nutritional analysis
Calories
60
Total Fat
3.5 g
Saturated Fat
1 g
Cholesterol
0 mg
Carbohydrates
5 g
Fiber
0 g
Sugars
0 g
Protein
1 g
Sodium
65 mg