Apple Ginger Phyllo Nests
These yummy mini tarts are a nice little treat when you want something sweet.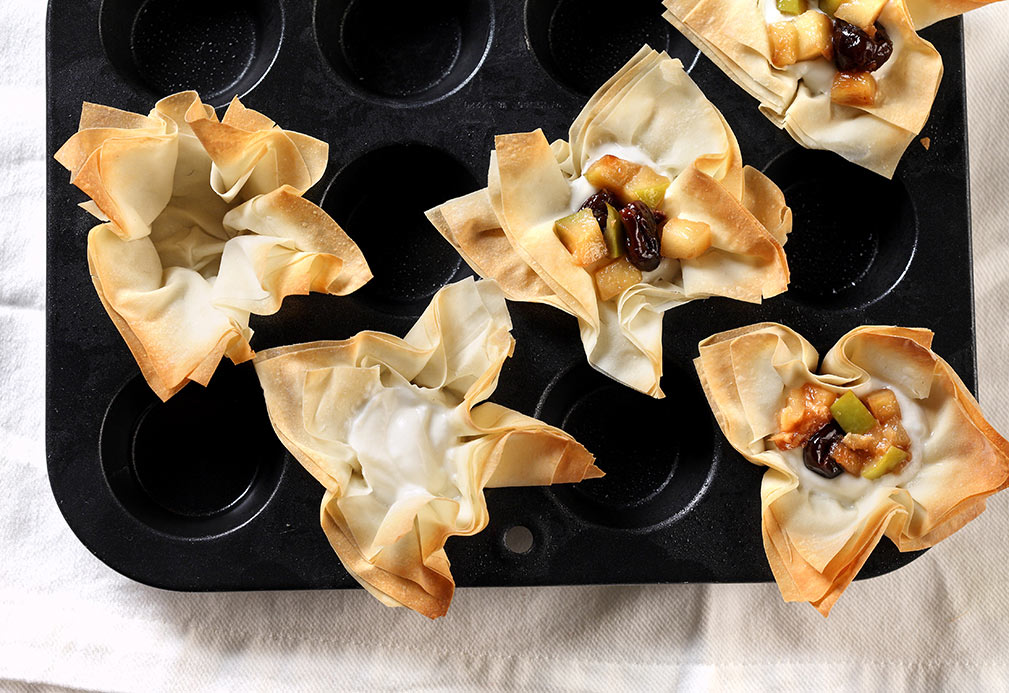 Ingredients
4 sheets phyllo pastry
canola oil cooking spray
Filling
1/2 cup plain nonfat Greek Yogurt 125 mL 
1 Tbsp granulated artificial sweetener 15 mL 
1/2 tsp vanilla 2 mL 
Topping
1 Tbsp canola oil 15 mL
1 cup finely diced Granny Smith apples, unpeeled 250 mL
2 Tbsp dried tart cherries 30 mL
1 Tbsp granulated artificial sweetener 15 mL 
1 tsp grated gingerroot 5 mL
1 tsp vanilla 5 mL
Dash of salt
Instructions
1. Preheat oven to 375 °F (190 °C).
2. To make phyllo tart shells: Defrost phyllo pastry.  Lay one sheet of pastry on countertop and spray with canola oil. Place second sheet of phyllo pastry over top. Continue layering and spraying with canola oil, until there are 4 layers of pastry. Cut pastry squares 3 x 3-inch (7.5 x 7.5 cm). Alternative: The pastry squares can also be cut before spraying with canola oil spray. The squares can then be slightly off-set, when layering to obtain a more decorative appearance.
3. Lightly spray 2 mini muffin pans. Line muffin cups with the square of pastry, alternating cups so that there is enough room for the pastry to bake. Place six, 4 layer phyllo pastry squares into each muffin pan. Bake cups for 5 minutes or until nicely browned.
4.To prepare topping: In medium nonstick skillet, heat canola oil over medium-heat until hot. Add apples and cherries and cook 3 minutes or until tender, stirring occasionally. Remove from heat and cool to room temperature. Stir in remaining topping ingredients.
5. To prepare filling: In small bowl, whisk together yogurt, sweetener and vanilla and set aside.
6. At time of serving, spoon equal amounts of yogurt mixture (about 1 1/2 tsp / 7 mL) in each of 12 mini tarts. Top each with equal amounts of apple mixture (about 2 tsp / 10 mL) on top of each tart. Serve immediately for peak texture. 
Yield
12 tarts
serving size
1 tart.
nutritional analysis
Per Serving
Calories
50
Total Fat
2.5 g
Saturated Fat
1 g
Cholesterol
0 mg
Carbohydrates
6 g
Fiber
1 g
Protein
1 g
Sodium
80 mg