Pineapple Upside Down Cake
This classic cake was made famous by women's magazines after canned pineapple became available in slices. The recipe here gets an update with canola oil keeping it moist, light and low in saturated fat; the addition of tender, whole-grain pastry flour; and a lovely kick of crystallized ginger to mingle with the pineapple in the caramelized topping. You and your guests will be turned upside down by it!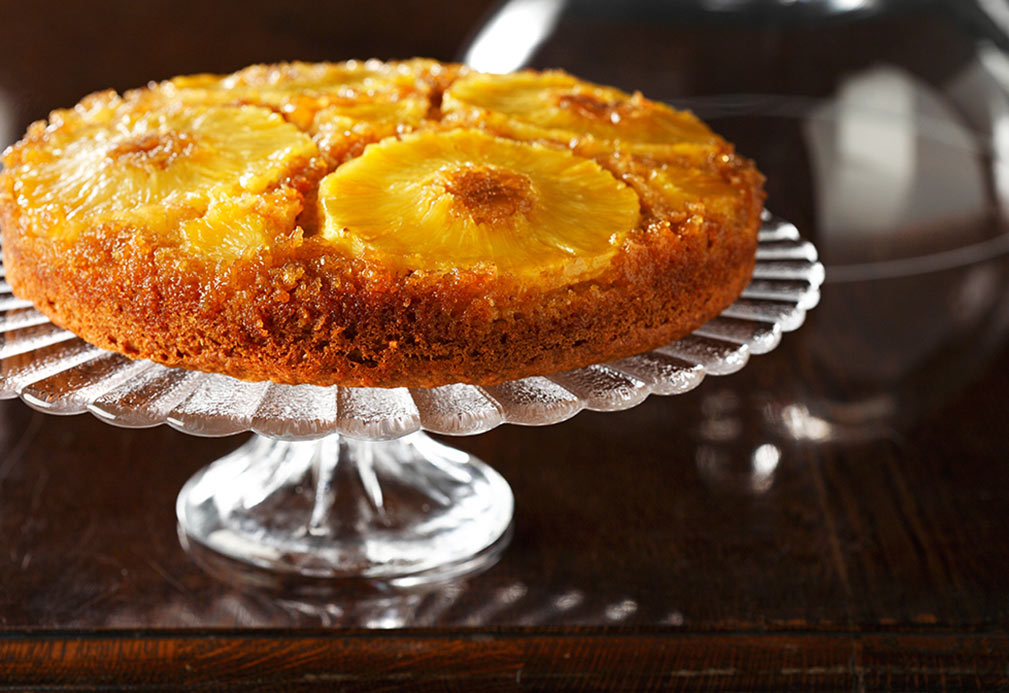 Ingredients
canola oil cooking spray
1/3 cup packed dark brown sugar 75 mL
4-5 pineapple rings (about 1/4 of whole pineapple) about 1/2-inch (1.25-cm) thick
2 Tbsp chopped crystallized ginger 30 mL
1¼ cups all-purpose flour 310 mL
3/4 cup whole-wheat pastry flour* 175 mL
3/4 cup granulated sugar 175 mL
1 tsp baking powder 5 mL
1 tsp baking soda 5 mL
1 cup low-fat buttermilk 250 mL
1/2 cup canola oil 125 mL
2 large eggs
1½ tsp vanilla extract 7 mL
Instructions
1. Preheat oven to 350°F (180°C). Generously spray bottom of 9-inch (22-cm), nonstick layer cake pan with canola oil cooking spray. Sprinkle evenly with brown sugar, then arrange pineapple rings on top in one layer. Sprinkle chopped ginger pieces in spaces around pineapple rings and in their centers.
2. In medium bowl, whisk together all-purpose flour, whole-wheat flour, sugar, baking powder and baking soda. In another medium bowl, whisk together buttermilk, canola oil, eggs and vanilla. 
3. Combine wet and dry ingredients and mix until combined. Pour batter over pineapple-brown sugar mixture and bake until top is lightly browned and wooden skewer inserted into center of cake comes out clean, 40-50 minutes. Let cool for 5 minutes, then run knife around cake edges and, using oven mitts, invert cake onto large serving plate. 
Note: *Whole-wheat, all-purpose flour can be substituted for whole-wheat pastry flour.
Yield
8 servings
serving size
1 slice
nutritional analysis
Per Serving
Calories
390
Total Fat
16 g
Saturated Fat
1.5 g
Cholesterol
55 mg
Carbohydrates
57 g
Fiber
2 g
Protein
6 g
Sodium
270 mg