Pork & Pasta Stir-fry
What a medley of cultures stir-frying from the Chinese, pasta from the Italians, and pork which is the most widely consumed meat in the world.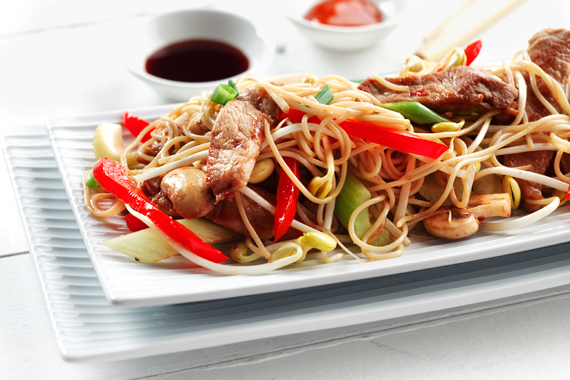 Ingredients
6 oz lean pork strips from leg or loin 170 g
1 tsp cornstarch 5 mL
1 tsp low sodium soy sauce 5 mL
1 Tbsp canola oil 15 mL
1 clove garlic, minced
1/4 tsp crushed red pepper flakes 1 mL
1/3 cup celery, diagonally sliced 75 mL
1/2 red pepper, seeded and cut into strips
1/2 cup mushrooms, sliced 125 mL
3/4 cup bean sprouts 175 mL
1 cup cooked vermicelli 250 mL
1 1/2 Tbsp green onions, sliced 20 mL
1 1/2 tsp low sodium soy sauce 7 mL
Instructions
1. In a small bowl combine pork strips, cornstarch and soy sauce. Toss together to coat pork. Cover and refrigerate for 25 minutes.
2. In a skillet heat canola oil. Add pork strips, garlic and red pepper flakes. Stir-fry about 4-5 minutes. Add celery and red pepper; stir-fry 2 minutes. Add mushrooms and bean sprouts; stir-fry 2 minutes. Add vermicelli, green onions and soy sauce. Toss together and heat through. Transfer to serving plates.
3. Garnish with additional sliced green onions if desired.
Yield
4 servings
serving size
1/2 cup (125 mL)
nutritional analysis
Per Serving
Calories
320
Total Fat
5 g
Saturated Fat
1 g
Cholesterol
30 mg
Carbohydrates
48 g
Fiber
3 g
Protein
19 g
Sodium
115 mg