Pork Stir-Fry with Black Bean Sauce
Flavored with garlic, ginger and black bean sauce, this Chinese dish has extra flavor.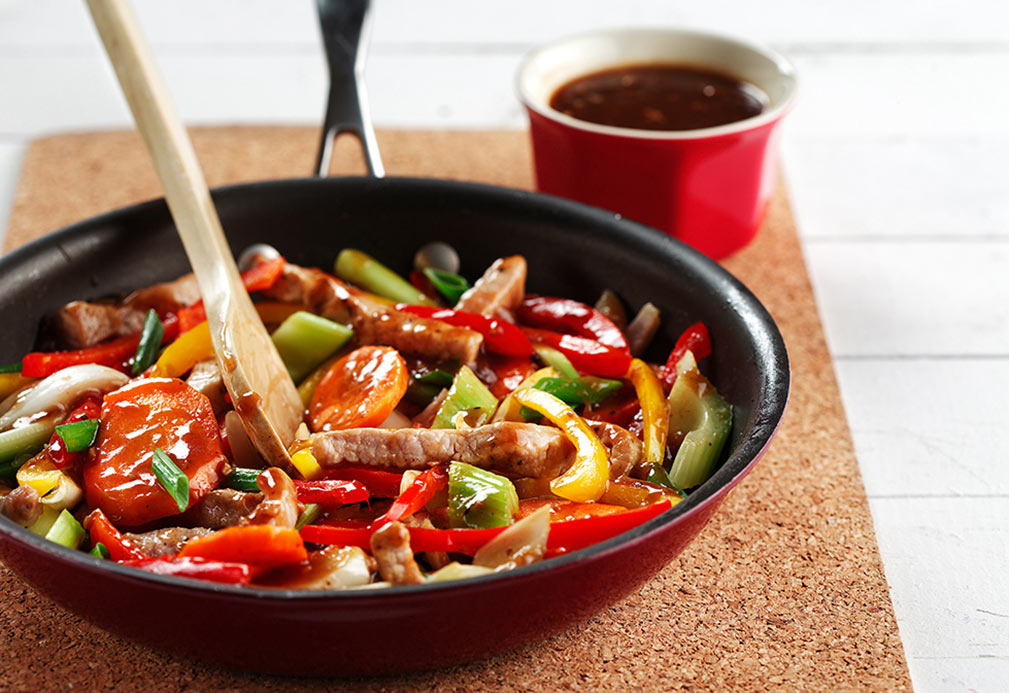 Ingredients
2 Tbsp canola oil, divided 30 mL
1 lb boneless pork leg or loin, cut into strips 500 g
1 large carrot, thinly sliced diagonally
1 red pepper, cut into strips
1 yellow pepper, cut into strips
2 celery stalks, cut into strips
1 onion, cut into wedges
2 cloves garlic, chopped
1 Tbsp fresh ginger, chopped 15 mL
2 Tbsp black bean sauce 30 mL
2 1/2 cups low-sodium chicken stock 625 mL
1/4 tsp pepper 1 mL
2 1/2 Tbsp cornstarch 37 mL
2 Tbsp cooking wine or dry sherry 30 mL
2 green onions, chopped
Instructions
1. In wok or large skillet, heat 1 Tbsp (15 mL) canola oil over medium-high heat. Add pork strips and stir-fry until browned; remove and keep warm. Add carrots and cook 2 minutes. Add peppers, celery and onion; cook 3 minutes or until vegetables are tender crisp. Remove mixture from wok and keep warm.
2. Add remaining canola oil to wok. Sauté garlic and ginger for 1 minute. Stir in black bean sauce and heat through. Add chicken stock and pepper; simmer 3-4 minutes. Combine cornstarch and cooking wine; add to sauce, stir and cook until thickened.
3. Add meat and vegetables back into wok. Stir to combine mixture with sauce. Garnish with chopped green onions. Serve with rice noodles, whole wheat noodles or steamed brown rice.
Yield
8 servings
serving size
1 cup (250 mL)
nutritional analysis
Per Serving
Calories
160
Total Fat
7 g
Saturated Fat
1.5 g
Cholesterol
35 mg
Carbohydrates
10 g
Fiber
2 g
Protein
14 g
Sodium
150 mg