Red Pepper and Fennel Frittata
Eggs are a complete source of protein and here they are baked with veggies like a casserole. The frittata is perfect for brunch, lunch or even dinner!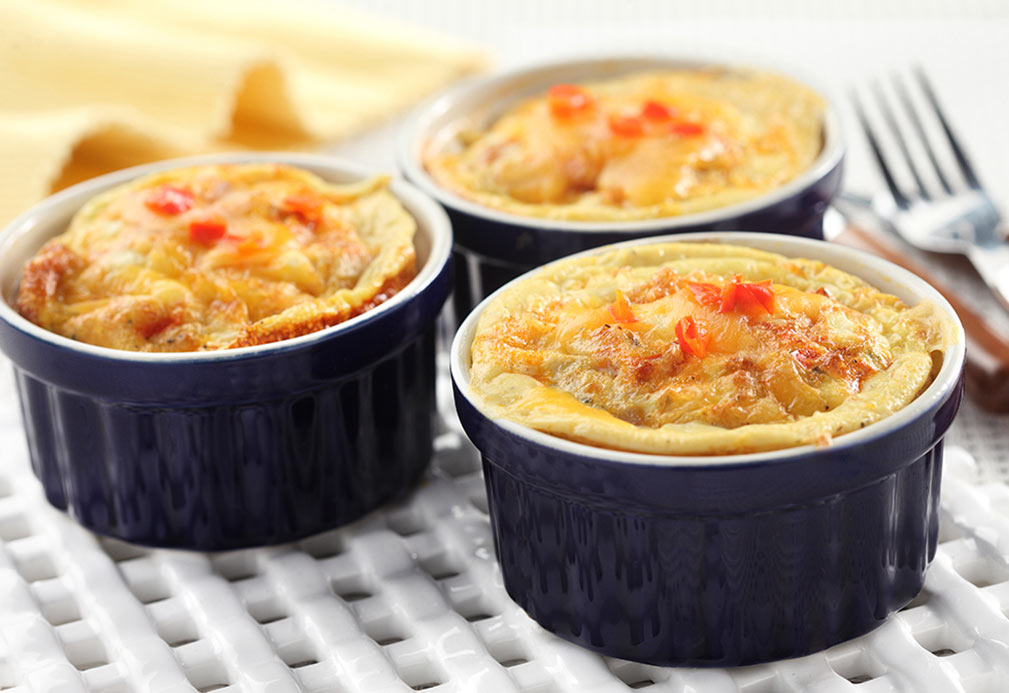 Ingredients
1 Tbsp canola oil 15 mL
1 1/2 cups chopped red pepper 375 mL
1 1/2 cups chopped fennel 375 mL
3/4 cup chopped red onion 175 mL
1 tsp fennel seeds 5 mL
1 cup peeled, cubed white potatoes 250 mL
8 large eggs
1/4 cup 1% milk 60 mL
1/2 tsp freshly ground black pepper 2 mL
1 cup low-fat shredded Cheddar cheese 250 mL
1/2 cup reduced fat crumbled feta cheese 125 mL 
Instructions
1. Preheat oven to 400 ºF (200 ºC). Spray 9 x 13-inch (22 x 33 cm) glass baking dish with canola cooking spray and set aside.
2. In large skillet, heat canola oil over medium-high heat. Add red peppers, fennel, onion and fennel seeds and sauté 3-4 minutes or until vegetables begin to soften. Remove from heat and stir in potatoes. Evenly spread vegetable mixture in bottom of prepared baking dish.
3. In small bowl, whisk eggs with milk and black pepper. Pour over vegetables. Sprinkle Cheddar and feta cheese evenly over top. Bake in preheated oven for 25-30 minutes or until eggs are set.
Tip: Bake and serve in individual ramekins for a personal, elegant touch.
Yield
10 servings
serving size
1/2 cup (125 mL)
nutritional analysis
Per Serving
Calories
140
Total Fat
7 g
Saturated Fat
2.5 g
Cholesterol
175 mg
Carbohydrates
8 g
Fiber
1 g
Protein
10 g
Sodium
230 mg