Huevos Rancheros
Eggs simmered in a robust tomato-chorizo sauce and served with a crispy tortilla – is there a better breakfast? (Or heck, lunch or dinner!) Canola oil's neutral flavor lets the spices and other ingredients take center stage. Plus its high heat tolerance is ideal for frying tortillas.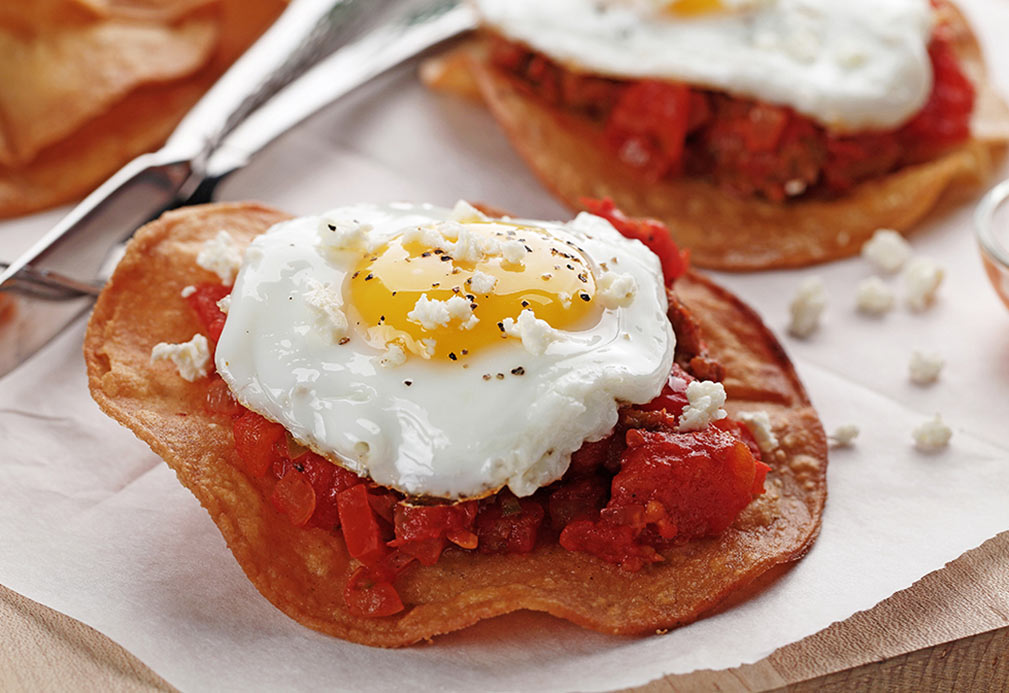 Ingredients
1 Tbsp canola oil 15 mL
1 small onion, chopped
1 small red bell pepper, seeded and chopped
1 jalapeno pepper, seeded and finely chopped
2 fresh chorizo or Italian sausages
2 garlic cloves, crushed
2 tsp chili powder 10 mL
1 tsp cumin 5 mL
1 can (14 oz/796 mL) whole tomatoes, preferably in tomato puree
1/4 tsp salt 1 mL
1/4 tsp pepper 1 mL
6 eggs
1/2 cup crumbled feta 125 mL
6 small corn tortillas
3 Tbsp canola oil 45 mL
Instructions
1. In large, heavy skillet or shallow pot, heat 1 Tbsp (15 mL) canola oil and sauté onion, red pepper and jalapeno 4-5 minutes, until soft. Squeeze sausage out of casing into pot and cook, breaking meat up with spoon until no longer pink.
2. Add garlic, chili powder and cumin, cooking another minute or two. Add tomatoes, breaking them up with a spoon, until mixture simmers and thickens. Season with salt and pepper.
3. When sauce is at even simmer, make six little dents with spoon in surface of sauce and crack an egg into each. Cover pan or pot and cook until egg whites are opaque but yolks are still soft.
4. Meanwhile, in small skillet, heat about 1/2 inch of canola oil and cook each tortilla until golden and crisp, turning with tongs as necessary. Remove from oil and transfer to paper towel-lined plate to drain and sprinkle with salt.
Yield
6 servings
serving size
1 cup (250 mL) with egg and 1 tortilla
nutritional analysis
Per Serving
Calories
380
Total Fat
26 g
Saturated Fat
7 g
Cholesterol
215 mg
Carbohydrates
23 g
Fiber
3 g
Sugars
4 g
Protein
15 g
Sodium
700 mg
Potassium
360 mg