Rice Pilaf with Lentils, Curried Onions & Cashews
Pilafs are a great example of the transformative power of sautéing. Without it, this would be just another rice dish. Instead, onions are sautéed in canola oil for maximum flavor, then curry powder is added to create one of the great Indian side dishes. Serve it with chicken or lamb curry, or grilled chicken or fish. With the addition of lentils and cashews, also sautéed in canola oil, this is a high-protein, low-fat, high-fiber choice that could also be eaten as a vegetarian entrée.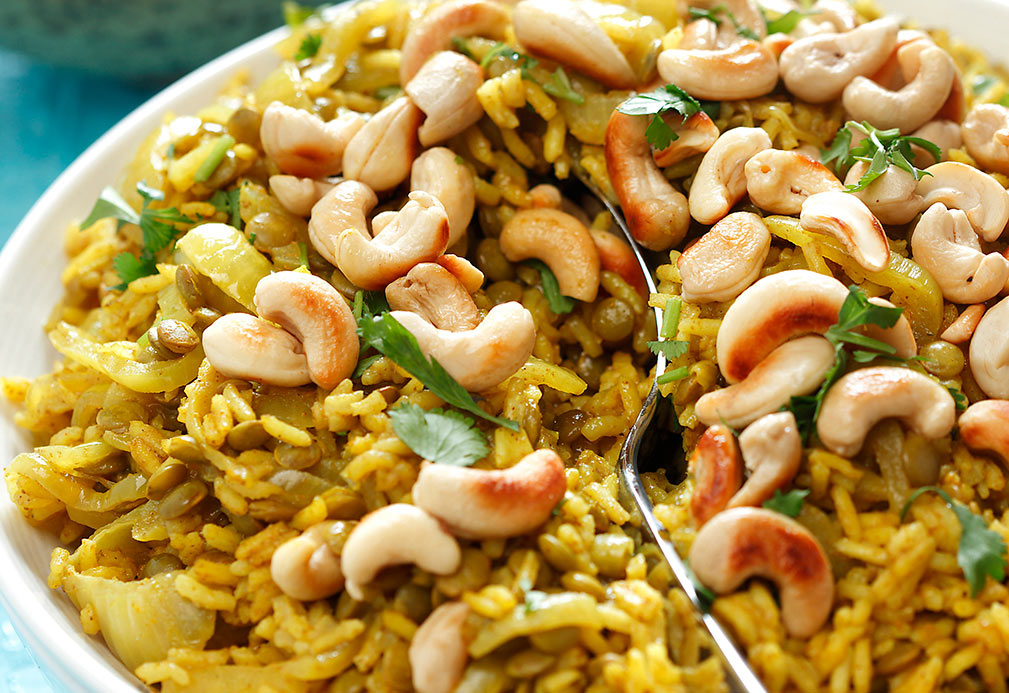 Ingredients
1/2 cup brown lentils 125 mL
2 Tbsp plus 2 tsp canola oil 30 mL + 10 mL
1 lb yellow onions (2 large), cut in half and thinly sliced 500 g
1/2 tsp salt 2 mL
1 1/2 Tbsp good quality Madras curry powder 20 mL
1 cup white basmati rice 250 mL
3 cups low-sodium chicken broth or water 750 mL
2/3 cup raw cashews 150 mL
cilantro for garnish, optional
Instructions
1. Sort through lentils and discard any small stones or debris. Put lentils in a bowl and cover with boiling water. Let stand for 15 minutes.
2. Meanwhile, in a 10-inch sauté pan, warm 2 Tbsp (30 mL) canola oil over medium-high heat. Add onions and sprinkle with salt. Saute until onions are coated with oil and start to soften, about 1 minute. Reduce heat to medium and sauté until pale golden, about 10 minutes. Stir in curry powder and sauté for 30 seconds.
3. Add rice to pan and sauté until rice is coated with oil and onions, about 1 minute. Drain lentils. Add to pan, then stir in broth or water. Bring mixture to a boil. Reduce heat to low, cover pan and simmer until rice and lentils are cooked through, about 20 minutes.
4. While pilaf cooks, in a small frying pan, warm 2 tsp (10 mL) canola oil over medium-high heat. Add cashews and sauté until golden, about 5 minutes. Set cashews aside in pan.
5. When rice and lentils are cooked, uncover pan and fluff rice with a fork. Sprinkle with cashews and cilantro, if desired.
Yield
6 servings
serving size
nutritional analysis
Per Serving
Calories
390
Total Fat
18 g
Saturated Fat
2.5 g
Cholesterol
0 mg
Carbohydrates
47 g
Fiber
5 g
Protein
14 g
Sodium
240 mg