Spinach and Mushroom Barley Pilaf
A dynamic duo in any dish, spinach and mushrooms have rustic texture and earthy flavors.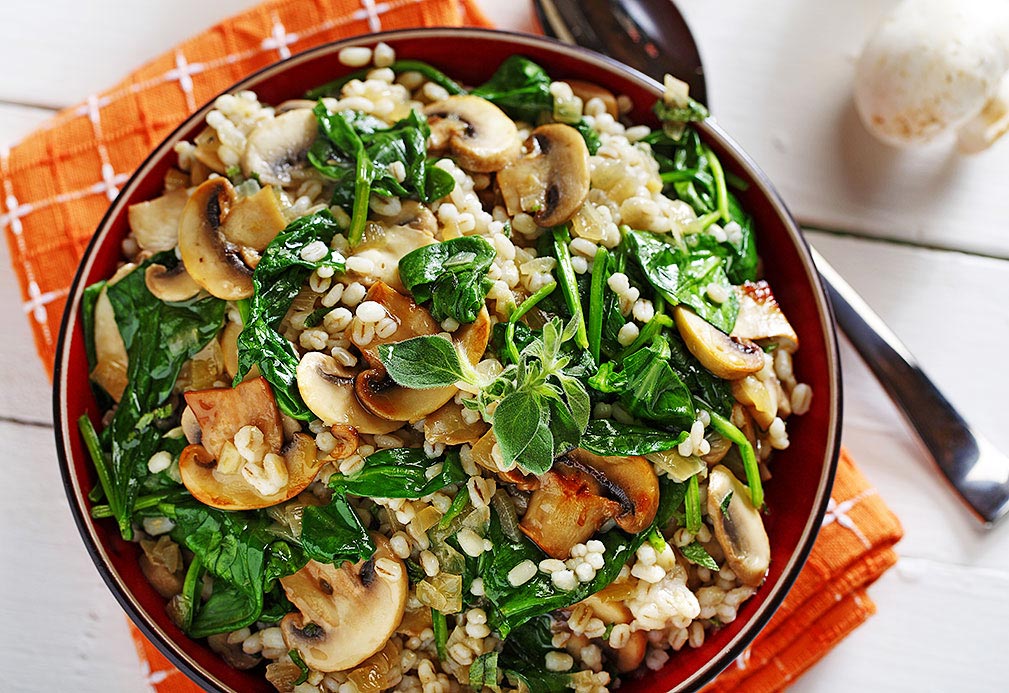 Ingredients
1 cup water 250 mL
1/2 cup quick-cooking barley 125 mL
1 1/2 Tbsp canola oil, divided 20 mL
1 1/2 cups diced onion 375 mL
1/2 pkg (8 oz/250 g) sliced mushrooms
2 medium cloves garlic, minced
2 cups (1 oz/ 28 g) loosely packed baby spinach 500 mL
1 tsp dried oregano leaves, crumbled 5 mL
1/2 tsp salt 2 mL
Instructions
1. Bring water to a boil in a small saucepan over high heat. Stir in barley, reduce heat, cover tightly, and simmer 10 -12 minutes or until tender. Remove from heat and let stand 5 minutes.
2. Meanwhile, heat 1/2 Tbsp (7 mL) canola oil in a large nonstick skillet over medium-high heat. Tilt skillet to coat bottom evenly; add onions, and cook 6 minutes or until richly browned, stirring frequently. Add mushrooms and cook 4 minutes or until tender, using two utensils to toss. Add garlic and cook 30 seconds, stirring constantly.
3. Remove from heat. Add spinach, oregano, salt, and undrained barley. Toss well to blend. Drizzle remaining 1 Tbsp (15 mL) canola oil evenly over all and toss gently until just coated.
Flavorful tip: Do not drain the barley. The small amount of liquid that remains will add moisture to the dish without affecting the flavors. Add the remaining canola oil at the end for a smooth texture.
Yield
4 servings
serving size
1/2 cup (125 mL)
nutritional analysis
Per Serving
Calories
150
Total Fat
6 g
Saturated Fat
0.5 g
Cholesterol
0 mg
Carbohydrates
24 g
Fiber
4 g
Protein
3 g
Sodium
300 mg