Roast Beef with Wild Mushroom Sauce
This hearty, yet simple meal bursts with flavor due to the sauce.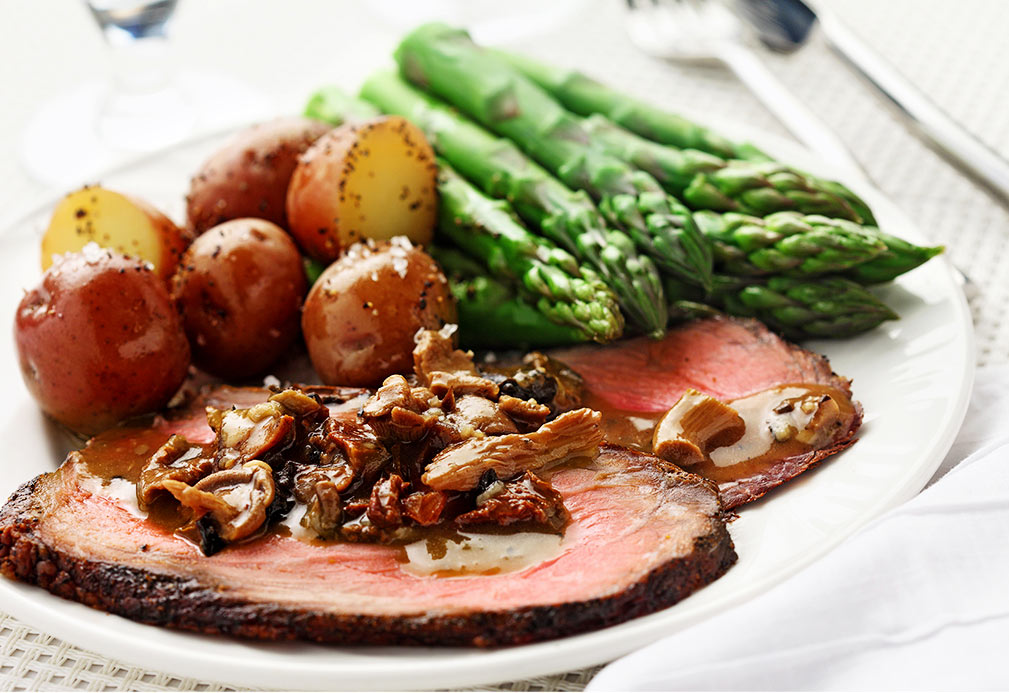 Ingredients
2 1/2 lb outside round beef roast 1.1 kg
1 1/2-2 tsp freshly ground black pepper 7-10 mL
1 oz mixed dried wild mushrooms 30 g
2 cups low-sodium beef broth 500 mL
1 cup water 250 mL
1 Tbsp canola oil 15 mL
2 Tbsp finely minced shallots 30 mL
2 cloves garlic, minced
1 Tbsp whole black peppercorns, coarsely crushed 15 mL
1 Tbsp Dijon mustard 15 mL
2 Tbsp brandy 30 mL
2 1/2 Tbsp all-purpose flour  37 mL
Instructions
1. Preheat oven to 275 ºF (140 ºC). Lightly spray 9 x 9-inch (22 x 22 cm) metal roasting pan with canola oil cooking spray and set aside.
2. Pat roast dry. Cover entire roast with ground black pepper and shake off excess. Place in prepared pan and roast in preheated oven for 1 1/4-1 3/4 hours or until internal temperature registers 140 ºF (60 ºC) with instant-read thermometer. Remove from oven and tent loosely with foil.
3. During last 30 minutes of cooking, prepare sauce. In medium saucepan, bring beef broth and water to a boil. Remove from heat and add mushrooms, covering them well with broth mixture. Let set at room temperature for 30 minutes to soften. Drain mushrooms, reserving broth. Coarsely chop mushrooms.
4. In large skillet, heat canola oil over medium-high heat. Add shallots and cook for 1-2 minutes or until soft; do not brown. Add garlic, peppercorns, Dijon mustard and reserved chopped mushrooms and cook for another minute. Deglaze pan with brandy and cook for one more minute. Add flour and cook again for 1 minute. Whisk in broth mixture. Bring to a boil, then reduce heat and simmer for 8-10 minutes or until thickened.
5. Transfer meat to cutting board and slice thin. Cover with sauce and serve.
Yield
12 servings
serving size
3 oz (90 g) meat plus ¼ cup (60 mL) sauce
nutritional analysis
Per Serving
Calories
210
Total Fat
9 g
Saturated Fat
2.5 g
Cholesterol
95 mg
Carbohydrates
4 g
Fiber
0 g
Protein
27 g
Sodium
60 mg