Beef and Mushroom Soup
This hearty, chunky soup is perfect for any cold night and makes enough for lunch leftovers the next day! Or freeze the rest for up to 3 weeks. Lean beef and heart-healthy canola oil help keep saturated fat to a minimum.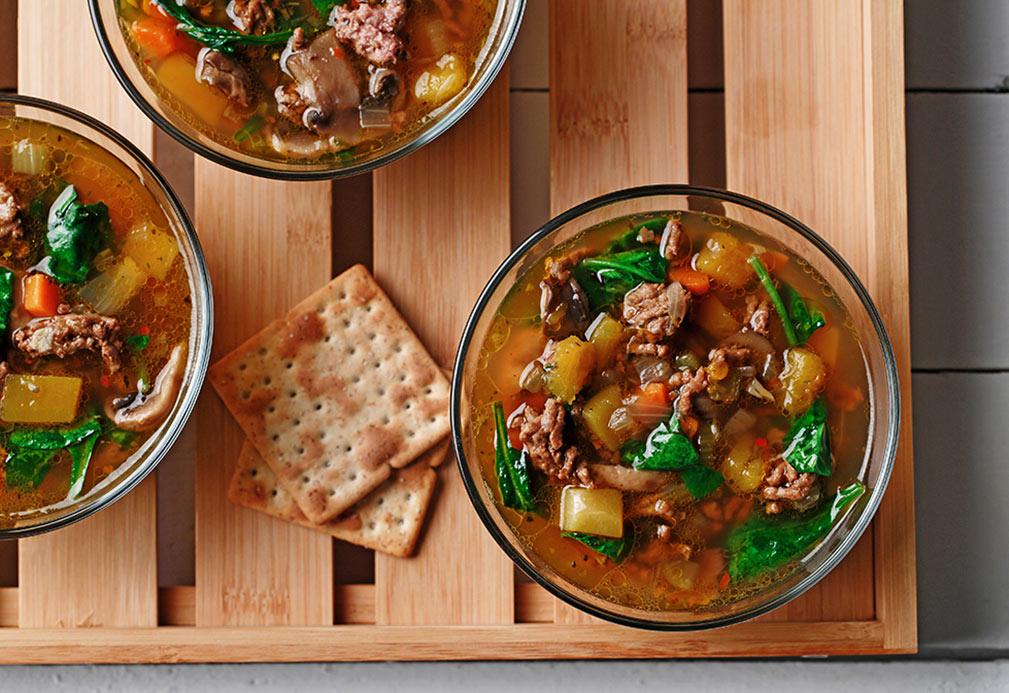 Ingredients
1 lb (454 g) extra lean ground beef
1 Tbsp canola oil 15 mL
2 pkg (8 oz/227 g each) sliced mushrooms
1 carrot, chopped
1 celery, chopped
1 onion, chopped
4 cloves garlic, minced
1 Tbsp Italian seasoning 15 mL
1 tsp chili powder 5 mL
1/4 tsp hot pepper flakes 1 mL
1 Tbsp Worcestershire sauce 15 mL
6 cups reduced sodium or no-salt beef broth 1.5 L
2 cups diced squash 500 mL
1 pkg (5 oz/142 g) baby spinach, chopped
Instructions
1. In soup pot, brown beef over medium-high heat. Into colander, scrape meat and drain; set aside. 
2. Return same pot to medium heat and add oil. Add mushrooms, carrot, celery, onion, garlic, Italian seasoning and hot pepper flakes and cook, stirring for about 15 minutes or until softened. Add beef and Worcestershire sauce; stir to combine. 
3. Pour in broth and squash. Bring to a boil. Reduce heat, cover and simmer for about 15 minutes or until squash is tender. Uncover and stir in spinach; cook for 3 minutes or until spinach is wilted. 
4. Ladle into deep bowls to serve.
Yield
12 Servings
serving size
1 cup (250 mL)
nutritional analysis
Per Serving
Calories
110
Total Fat
3.5 g
Saturated Fat
1 g
Cholesterol
20 mg
Fiber
2 g
Protein
12 g
Sodium
105 mg