Roasted Butternut Squash Salad with Chile Vinaigrette
This colorful salad is the perfect kick start to a fall celebration. Canola oil's neutral flavor lets all of the ingredients blend together.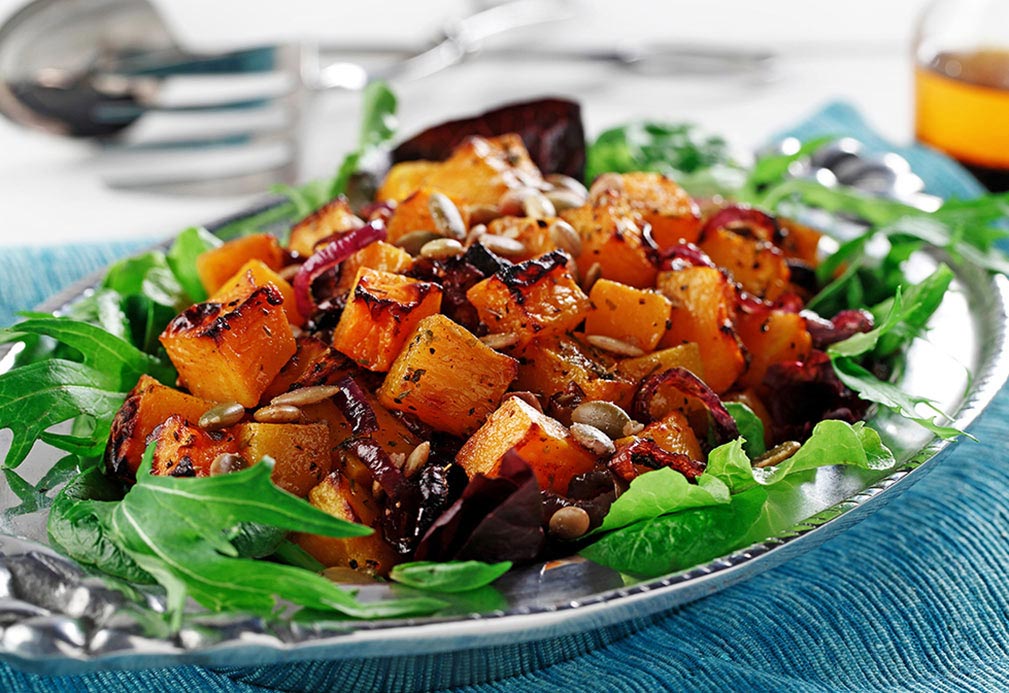 Ingredients
Roasted Butternut Squash
1 (2 lb/1 kg) butternut squash, peeled and cubed
1/2 cup sliced red onion
1 garlic clove, minced
1 tsp thyme 5 mL
1 tsp marjoram 5 mL
2 tsp salt 10 mL
1 tsp ground black pepper 5 mL
1 tsp cinnamon 5 mL
1 Tbsp canola oil 15 mL
Vinaigrette
1/3 cup canola oil 75 ml
3 Tbsp balsamic vinegar 45 mL
1 tsp salt 5 mL
1/2 tsp ground black pepper 2 mL
1 tsp granulated sugar 5 mL
1 chipotle chile, seeded and chopped
Salad
1/4 cup roasted pumpkin seeds 60 mL
1/3 cup sliced red onion 75 mL
4 cups mixed greens 1 L
Instructions
1. Preheat oven to 350 °F (180 °C).
2. In bowl, combine butternut squash with seasonings and canola oil. Stir to combine. Spread evenly on parchment-lined baking sheet. Roast for 30 minutes or until squash is fork tender. Remove from oven and cool.
3. To prepare vinaigrette: In bowl, whisk together all ingredients.
4. To serve: In large bowl, combine vinaigrette with roasted squash, pumpkin seeds, onion and mixed greens. Serve.
Yield
8 servings
serving size
1 cup (250 mL)
nutritional analysis
Per Serving
Calories
200
Total Fat
14 g
Saturated Fat
1.5 g
Cholesterol
0 mg
Carbohydrates
17 g
Fiber
5 g
Sugars
5 g
Protein
3 g
Sodium
890 mg
Potassium
416 mg