Roasted Vegetable Tofu Soup
This soup is packed with good-for-you veggies and protein – great for vegetarians and hearty enough to fill up carnivores, too.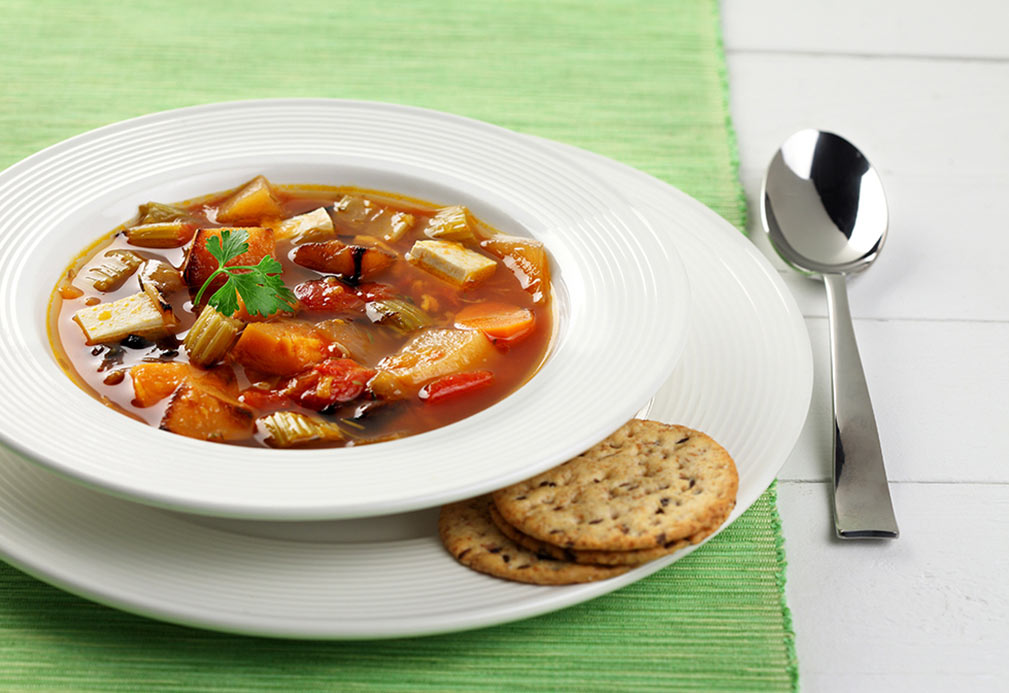 Ingredients
2 onions, cut into 1-inch pieces
2 carrots, peeled and cut into 1-inch sticks
2 celery ribs, cut into ½-inch thick slices
1 medium turnip, peeled and cut into 1-inch slices
1 small sweet potato, peeled and cut into 1-inch cubes
4 large cloves garlic, whole and unpeeled
2 Tbsp canola oil 30 mL
6 cups vegetable stock 1.5 L
1 can (15 oz/426 mL) diced tomatoes, preferably fire roasted, with juices
1/2 tsp ground black pepper 2 mL
1/2 tsp dried rosemary, crushed 2 mL
1/2 tsp dried thyme 2 mL
2 Tbsp chopped fresh Italian parsley 30 mL
1 cup firm tofu 250 mL
Instructions
1. Preheat oven to 425 °F (220 °C). Toss onions, carrots, celery, turnip, sweet potato and garlic with canola oil and place on large baking pan. Spread out into even layer and roast for 30 minutes, or until vegetables are tender and lightly browned at edges.
2. In large stock pot, add roasted vegetables and scrape up any browned bits clinging to pan. Add vegetable stock, tomatoes and juices, black pepper, rosemary and thyme.
3. Cover pot and allow soup to simmer for about 1 hour. Stir in parsley and tofu and cook for 5 minutes.
Yield
12 servings
serving size
1 cup (250 mL)
nutritional analysis
Per Serving
Calories
80
Total Fat
3.5 g
Saturated Fat
0 g
Cholesterol
0 mg
Carbohydrates
10 g
Fiber
2 g
Protein
3 g
Sodium
180 mg