Roasted Veggies with Pasta and Feta
There's been a resurgence of interest in the slow cooker and it's being used for way more than "stewed" meals! In this recipe, vegetables are slow-roasted in their own juices and canola oil keeps them nice and tender. The addition of fresh herbs, beans and olives at the end rounds out the flavors!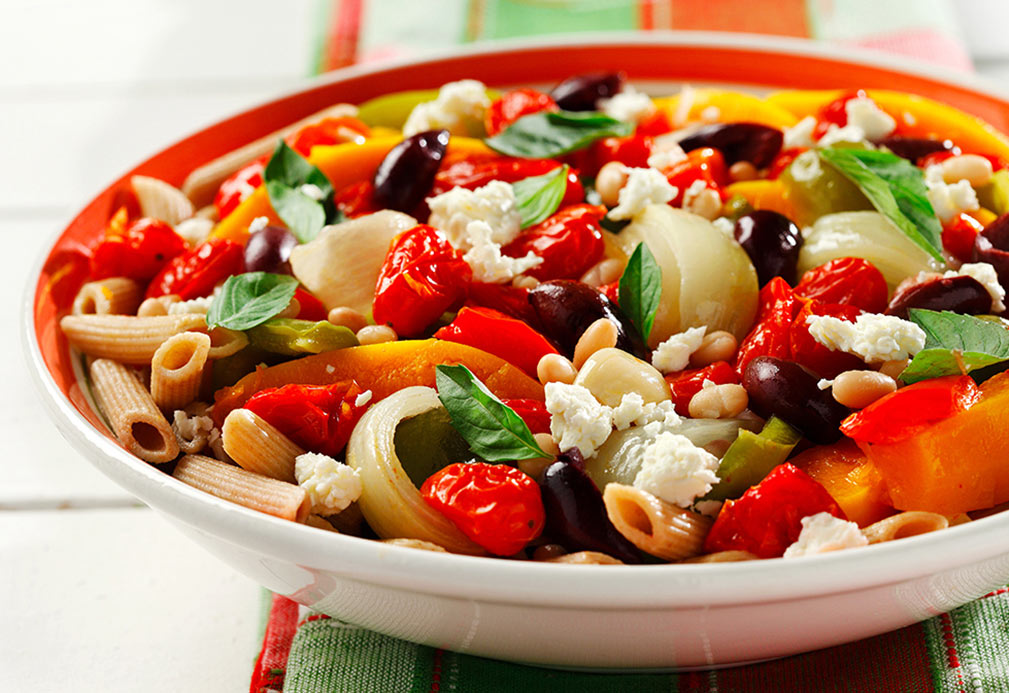 Ingredients
1 medium green bell pepper, 1-inch (2.5 cm) cubes
1 medium red bell pepper, 1-inch (2.5 cm) cubes
1 medium yellow squash, halved and cut in 1-inch (2.5 cm) slices
1 medium onion, cut into 8 wedges
1 cup grape tomatoes 250 mL
4 medium garlic cloves, peeled only
2 Tbsp canola oil 30 mL
4 oz uncooked whole grain penne 125 g
1/4 cup chopped fresh basil 60 mL
1/2 can (15-oz/433 mL) no-salt-added navy beans, rinsed and drained
16 pitted kalamata olives, halved
3/4 cup reduced-fat feta cheese, crumbled 175 mL
Instructions
1. In a slow cooker, combine bell peppers, squash, onion, tomatoes, garlic cloves and canola oil. Toss until well coated and cover bottom of slow cooker with vegetables. Cover and cook on high for 3 to 3½ hours or until tender, or on low setting for 6 to 7 hours.
2. About 20 minutes before serving, cook pasta according to package directions, omitting any salt or fat. Drain in colander. Place in a large pasta bowl.
3. Stir basil, beans, and olives into vegetable mixture and spoon over pasta. Sprinkle evenly with feta.
Yield
10 servings
serving size
1 cup (250 mL)
nutritional analysis
Per Serving
Calories
200
Total Fat
8 g
Saturated Fat
1.5 g
Cholesterol
5 mg
Carbohydrates
24 g
Fiber
6 g
Sugars
3 g
Protein
8 g
Sodium
310 mg