Romaine Pecan Salad
This flavorful salad will make a great addition to your dinner menu!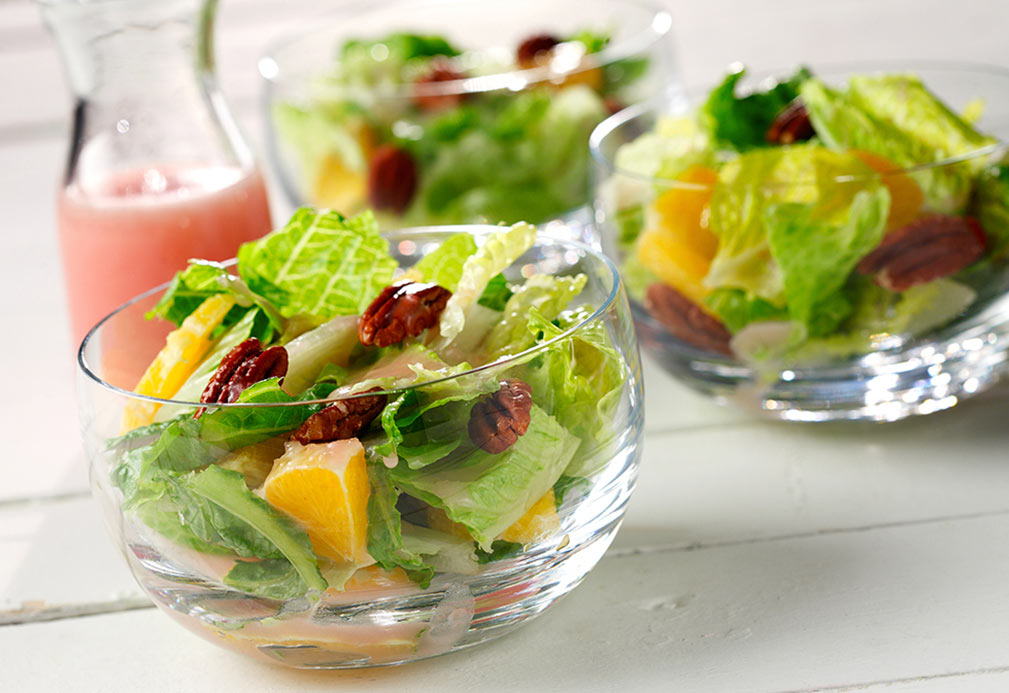 Ingredients
2 heads romaine lettuce, torn into bite size pieces
3/4 cup pecan halves, toasted 175 mL
2 oranges, peeled and sliced
1/4 cup vinegar 60 mL
1/2 cup granulated sugar 125 mL
1 cup canola oil 250 mL
1/2 small red onion 1/2
1 tsp salt 5 mL
1 tsp dry mustard 5 mL
2 Tbsp water 30 mL
Instructions
1. Place lettuce, pecans and oranges in a salad bowl.
2. Combine vinegar, sugar, canola oil, red onion, salt, mustard and water in a blender or food processor. Blend until dressing forms a creamy white consistency.
3. Pour 1/2 of the salad dressing on the salad. Save the remainder in the refrigerator for up to three days for another salad or use as a dip.
Yield
12 servings.
serving size
nutritional analysis
Per Serving
Calories
260
Total Fat
24 g
Saturated Fat
2 g
Cholesterol
0 mg
Carbohydrates
13 g
Fiber
2 g
Protein
2 g
Sodium
200 mg