Salmon and Quinoa Patties
Simply delicious. Enjoy these patties accompanied with grilled vegetables, on whole grain rolls or made into 16 mini-patties for an easy appetizer.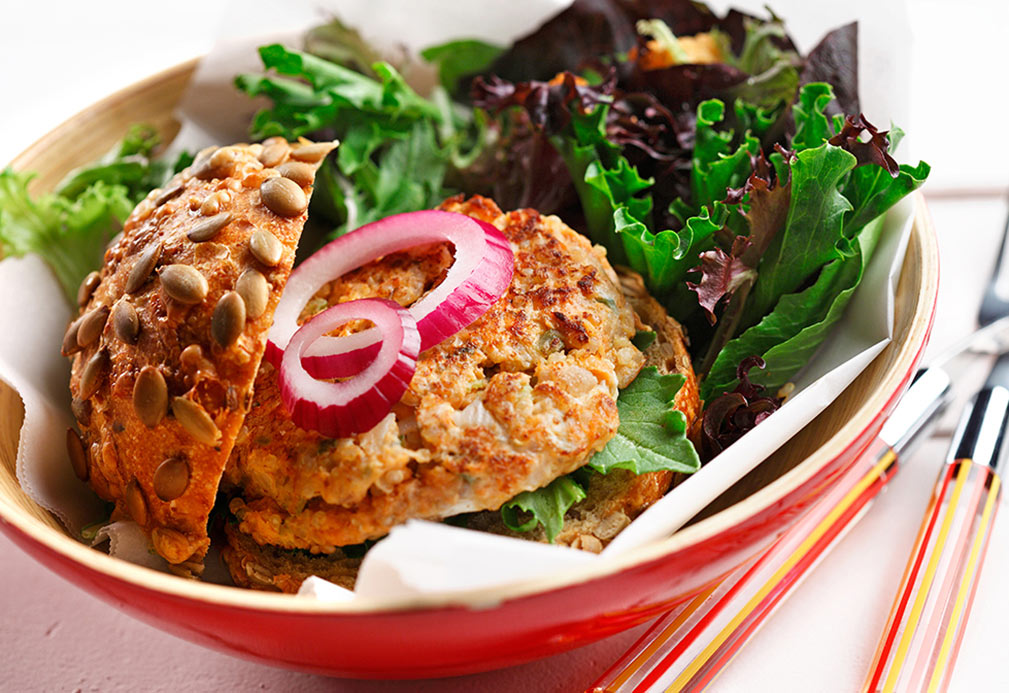 Ingredients
2 Tbsp canola oil, divided 30 mL
1 cup minced onion 250 mL
1/2 cup finely chopped celery 125 mL
1 cup cooked quinoa 250 mL
2 cans, 6.5 oz / 213 g each, salmon, rinsed and drained
3 eggs, beaten
2 Tbsp green relish 30 mL
1/2 tsp salt 2 mL 
Instructions
1. In a large non-stick pan, heat 1 Tbsp (15 mL) canola oil over medium heat. Add onion and celery and sauté for about 5 minutes. Remove from heat.
2. In large bowl, combine prepared quinoa with cooked onions and celery. Add salmon, eggs, relish and salt. Stir well to combine.
3. Shape mixture into 8 patties, about 1/3 cup (75 mL) mixture each.
4. In a saucepan, heat remaining canola oil over medium heat.
5. Cook patties for 3 to 4 minutes, undisturbed, or until golden brown. Flip over and continue cooking for about 4 additional minutes.
Yield
8 patties
serving size
1 pattie   
nutritional analysis
Per Serving
Calories
150
Total Fat
9 g
Saturated Fat
1.5 g
Cholesterol
90 mg
Carbohydrates
7 g
Fiber
1 g
Sugars
1 g
Protein
10 g
Sodium
360 mg