Crab Cakes with Warm Black Truffle Vinaigrette
Recipe developed at The Culinary Institute of America (CIA) by Chef Instructor Brenda La Noue. See Chef Almir Da Fonseca prepare the recipe in the video.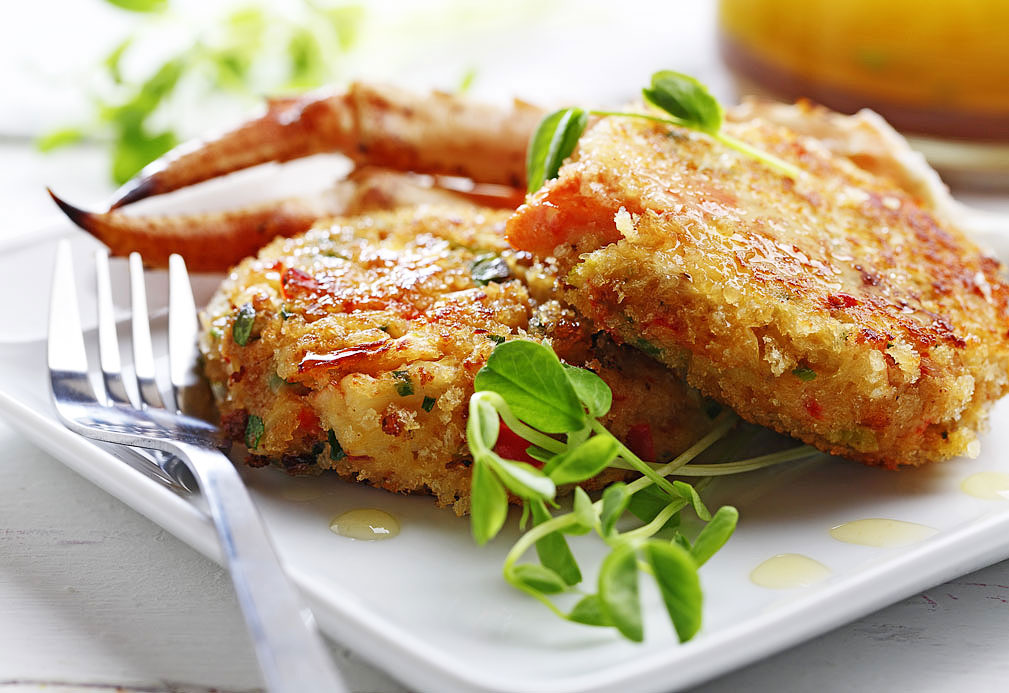 Ingredients
2 Tbsp canola oil
1 red bell pepper, small, seeded and finely chopped
2 celery ribs, finely chopped
2 Tbsp roasted garlic, mashed
1/4 cup green onion, chopped
1 lb jumbo lump crabmeat, cleaned for shells
3/4 cup fresh bread crumbs
2 Tbsp canola mayonnaise
1 Tbsp Dijon mustard
2 eggs, beaten
1/4 cup parsley, chopped
1/4 cup chives, chopped
1 lemon, zest and juice
1/4 tsp cayenne 1 mL
1/4 tsp salt 1 mL
1/4 tsp pepper 1 mL
2 cups Panko (Japanese bread crumbs)
1/4 cup canola oil
Instructions
1. In a large skillet, heat 2 Tbsp of canola oil over high heat. Sauté pepper and celery until the vegetables begin to soften, about 2 minutes. Reduce the heat to medium and add the garlic and green onions. Stir and cook for 1 minute. Remove from heat and cool.
2. In a bowl, combine the sautéed vegetables, crab meat, fresh bread crumbs, mayonnaise, mustard, eggs and half the parsley and chives. Mix well and add the lemon zest, juice, cayenne, salt and pepper. Form into cakes with your hands, each about 3 inches in diameter and 1/4 inch thick (you should have 12 to 14 cakes). Dip the top and bottom lightly into the panko. Refrigerate on a sheet pan lined with wax paper until ready to cook.
3. In a large skillet, heat canola oil over medium-high heat. Add the crab cakes and fry for 3 minutes on each side. Put 2 crab cakes each on 6 plates and drizzle with Warm Black Truffle Vinaigrette. Garnish with the remaining parsley and chives.
Yield
6 servings
serving size
3/4 cup (175 mL) 2 tsp vinaigrette (10 mL)
nutritional analysis
Calories
360
Total Fat
22 g
Saturated Fat
2 g
Cholesterol
0 mg
Carbohydrates
34 g
Fiber
2 g
Sugars
4 g
Protein
5 g
Sodium
370 mg
Potassium
161 mg