Salmon Confit over Lemon Spinach and Heirloom Tomato Orzo
Recipe developed at The Culinary Institute of America by Chef Instructor Almir Da Fonseca.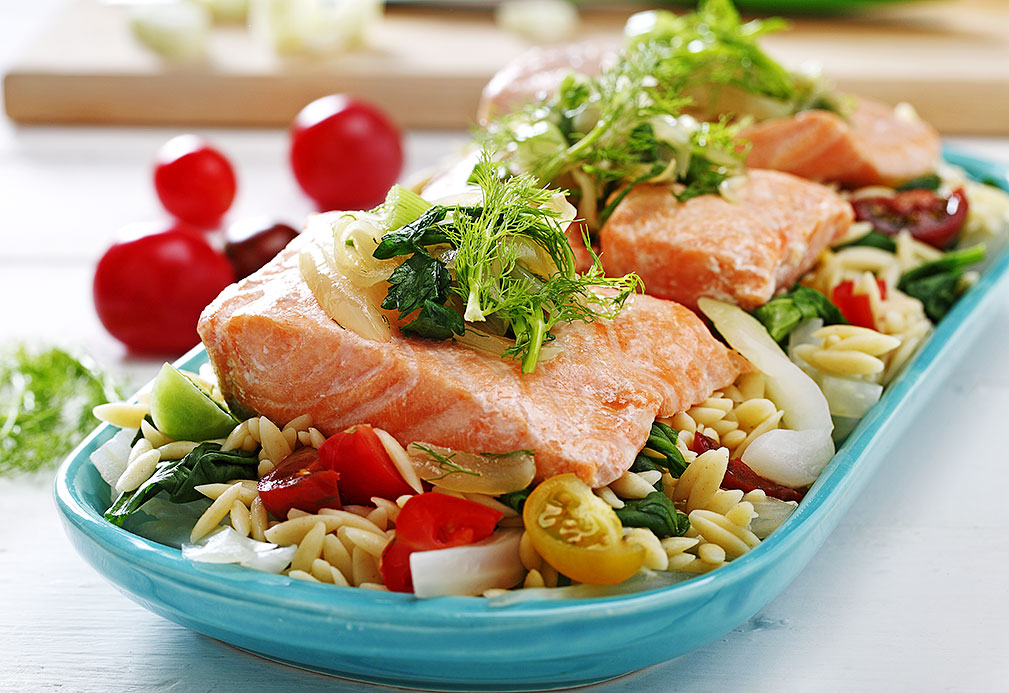 Ingredients
Salmon Confit
1 lb salmon fillet, boneless, skinless 500 g 
Sea salt for coating salmon
2 tsp salt 10 mL 
4 basil stems, bruised
4 sprigs thyme, bruised
4 bay leaves, crushed
4 garlic cloves, quartered lengthwise
1/2 tsp black peppercorns 2 mL 
1 serrano chile, split lengthwise (optional)
3 to 3 1/2 cups canola oil 750 to 875 mL
Fennel, Parsley and Onion Compote
10 sweet yellow onions, julienned
1/3 cup canola oil 75 mL
1/2 tsp sea salt 2 mL
1/4 tsp pepper, freshly cracked 1 mL
8 fennel, cored and julienned, fronds reserved and chopped 
3 bunches parsley, finely chopped
1 Tbsp lemon juice 15 mL
Heirloom Tomato Orzo
2 cups high-quality dried orzo 500 mL
2 cups spinach leaves 500 mL
1 cup heirloom tomatoes, seeded and small-diced 250 mL
1 tsp lemon zest 5 mL 
2 Tbsp parsley, finely chopped 30 mL 
1 1/2 Tbsp canola oil 20 mL 
1/2 tsp sea salt 2 mL
1/4 tsp pepper, freshly cracked 1 mL
1 Tbsp lemon juice 15 mL
Instructions
1. For salmon confit: Coat fish liberally with salt (there should be coating of salt on surface) and set aside. If salmon fillets are thick, they can be left in refrigerator overnight. If portions are thin, leave in refrigerator for 1 hour.
2. In saucepan, combine salt, basil, thyme, bay leaves, garlic, peppercorns, chile and canola oil and bring to bare simmer for a few minutes; do not brown garlic.
3. Brush excess salt off fish and, in batches, gently poach in canola oil confit until cooked. Set cooked fish aside, cool canola oil confit mixture and brush over fish.
4. For Fennel, Parsley and Onion Compote: In sauté pan, cook onions in canola oil until caramelized and season with salt and pepper; set aside.
5. In saucepan, place fennel with just enough water to cover; bring to simmer. Cook until tender. Drain and set aside.
6. In saucepan, place onions over low heat, add chopped fennel core, parsley and some chopped fennel fronds. Adjust seasoning with salt, pepper and lemon juice.
7. For orzo: In large pot, cook orzo in water until tender. When cooked, add spinach leaves and drain well. 
8. Place hot, drained orzo and spinach leaves in bowl and add diced tomatoes, lemon zest, parsley and canola oil. Season to taste with salt, pepper and lemon juice. Serve hot with salmon confit, fennel, parsley and onion compote. 
Yield
4 servings
serving size
4 oz salmon, 2 cups (500 mL) orzo and 2 cups compote
nutritional analysis
Per Serving
Calories
1440
Total Fat
77 g
Saturated Fat
7 g
Cholesterol
70 mg
Carbohydrates
144 g
Fiber
24 g
Protein
51 g
Sodium
2480 mg