Skillet Browned Cabbage
By adding ham at the very end, the "smoky" flavors are not lost in the dish.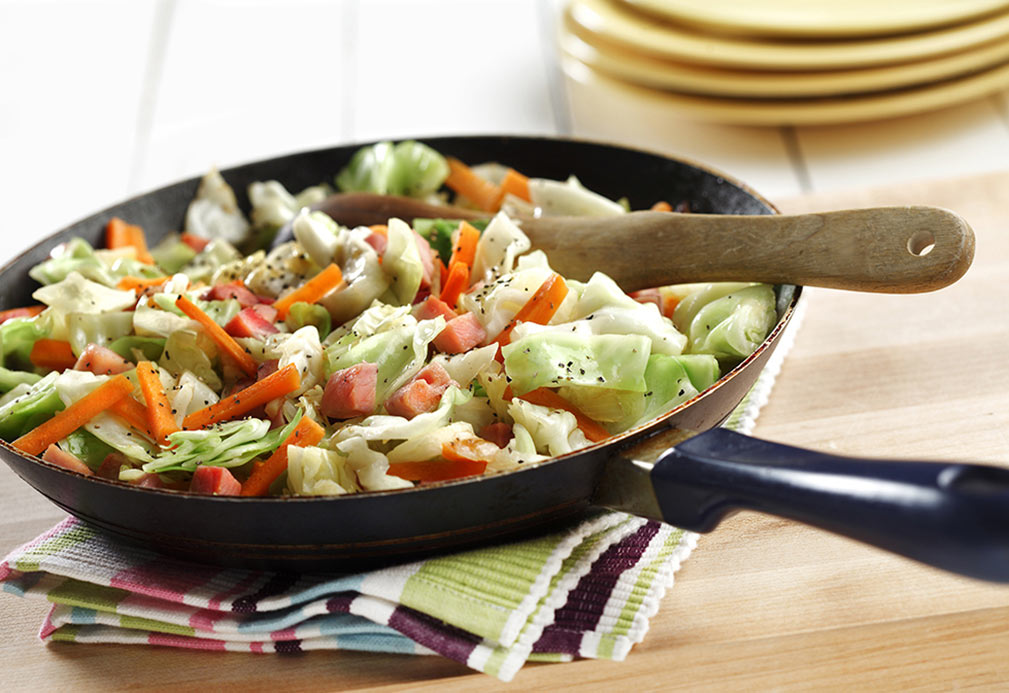 Ingredients
 1 Tbsp canola oil , to divided 15 mL
4 oz diced extra lean ham 125 g
3 cups coarsely chopped green cabbage, do not shred 750 mL
1 cup chopped onion 250 mL
1/2 cup matchstick carrots 125 mL
1 tsp packed dark brown sugar 5 mL
1/8 tsp salt 0.5 mL
Instructions
1. Heat 1 tsp (5 mL) canola oil in a large nonstick skillet over medium-high heat. Tilt skillet to coat lightly, add ham and cook until browned, about 3 minutes, stirring frequently. Set aside on separate plate.
2. Add 1 tsp (5 mL) of the oil to the pan and cook onion 3 minutes or until translucent. Add the remaining 1 tsp (5 mL) oil, cabbage, carrots, and sugar. Cook 3 minutes or until cabbage is beginning to brown on edges,  stirring as you would a stir fry. Add ham and cook 1 minute. Remove from heat, cover and let stand 5 minutes. Stir in salt.
Yield
about 2 1/2 cups
serving size
nutritional analysis
Per Serving
Calories
110
Total Fat
5 g
Saturated Fat
1 g
Cholesterol
15 mg
Carbohydrates
9 g
Fiber
2 g
Sugars
5 g
Protein
7 g
Sodium
370 mg
Potassium
273 mg