South Western Potato Salad
Canola oil has the lowest saturated fat level of any commonly used vegetable oil. It is also high in monounsaturated fats and a good source of plant-based omega-3 fats. Canola oil can be used in any recipe that calls for vegetable or cooking oil.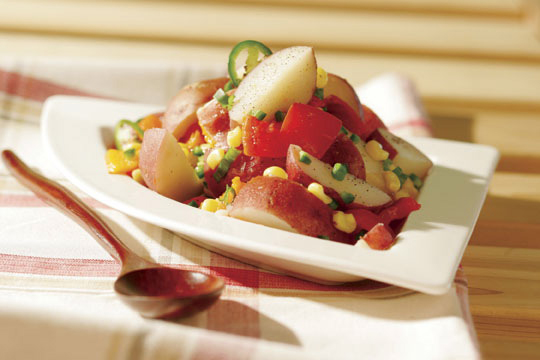 Ingredients
1 roasted red pepper
1 roasted orange pepper
1 1/2 cups corn kernels, cooked 375 mL
2 cups seeded tomatoes, diced 500 mL
3 green onions, thinly sliced
2 Tbsp finely chopped, seeded jalapeno pepper 30 mL
1 lb small red potatoes, peeled, cut in half, halves cut into thick slices 500g
2 garlic cloves, minced
3 Tbsp canola oil 45 mL
2-3 Tbsp lime juice 30-45 mL
salt and pepper to taste
Instructions
1. In a small bowl, combine peppers, corn, tomatoes, green onions and jalapeno pepper.
2. Meanwhile, cook potatoes and garlic in a large pot of salted water until potatoes are tender. Drain and rinse under cold water. Mix potatoes and garlic with vegetables.
3. Whisk canola oil, lime juice and salt and pepper. Pour over potatoes and vegetables. Toss lightly. Serve.
Yield
6-8 servings
serving size
nutritional analysis
Per Serving
Calories
150
Total Fat
6 g
Saturated Fat
0 g
Cholesterol
0 mg
Carbohydrates
23 g
Fiber
3 g
Protein
3 g
Sodium
350 mg