Spicy Beef with Oranges
Asian-inspired ingredients will have your taste buds in overdrive.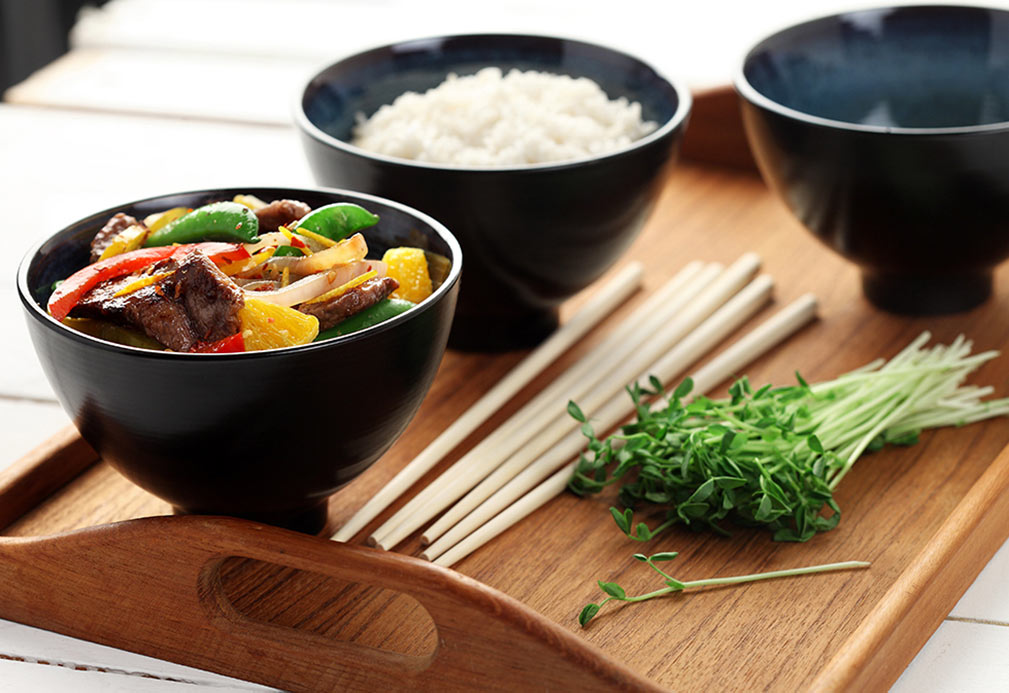 Ingredients
1/3 cup orange juice 75 mL
2-3 Tbsp dark soy sauce 30-45 mL
2 Tbsp cornstarch, to divide 30 mL
1 Tbsp orange zest 15 mL
2 oranges
2 Tbsp canola oil 30 mL
1 lb (500 g) trimmed, boneless sirloin beef, cut into 1/4 inch strips
2 cloves garlic, minced
1 Tbsp minced fresh ginger 15 mL
1 small red onion, thinly sliced
1 small red pepper, cut into thin strips
1 yellow pepper, cut into thin strips
1 cup sugar snap peas 250 mL
1/2 tsp red pepper flakes 2 mL
2 cups cooked white rice 500 mL
Instructions
1. In small bowl, combine orange juice, soy sauce, 1 Tbsp (15 mL) cornstarch and orange zest. Set aside.
2. Peel oranges. Cut into 1/2-inch (1.25 cm) slices and then halve the slices. Set aside.
3. In large non-stick skillet, heat 2 Tbsp (30 mL) canola oil over medium-high heat. Quickly toss beef with remaining 1 Tbsp (15 mL) cornstarch. Working in batches, brown beef on all sides, about 3 to 5 minutes. Transfer to plate.
4. Add garlic, ginger, onion, peppers, snap peas and red pepper flakes to pan. Cook while stirring, about 4-5 minutes. Add orange juice and soy sauce mixture and beef to pan. Heat through. Gently stir in oranges. Serve hot with white rice.
Yield
6 servings
serving size
1 cup (250 mL)
nutritional analysis
Per Serving
Calories
250
Total Fat
7 g
Saturated Fat
1 g
Cholesterol
20 mg
Carbohydrates
33 g
Fiber
3 g
Protein
14 g
Sodium
330 mg