Beef Satay with Peanut Sauce
Flavorful beef satay is perfect for backyard barbecues or other entertaining. It works as an appetizer or main course, plus it's easy to eat with no need for a knife and fork. Canola oil's high heat tolerance is ideal for grilling or broiling the skewers.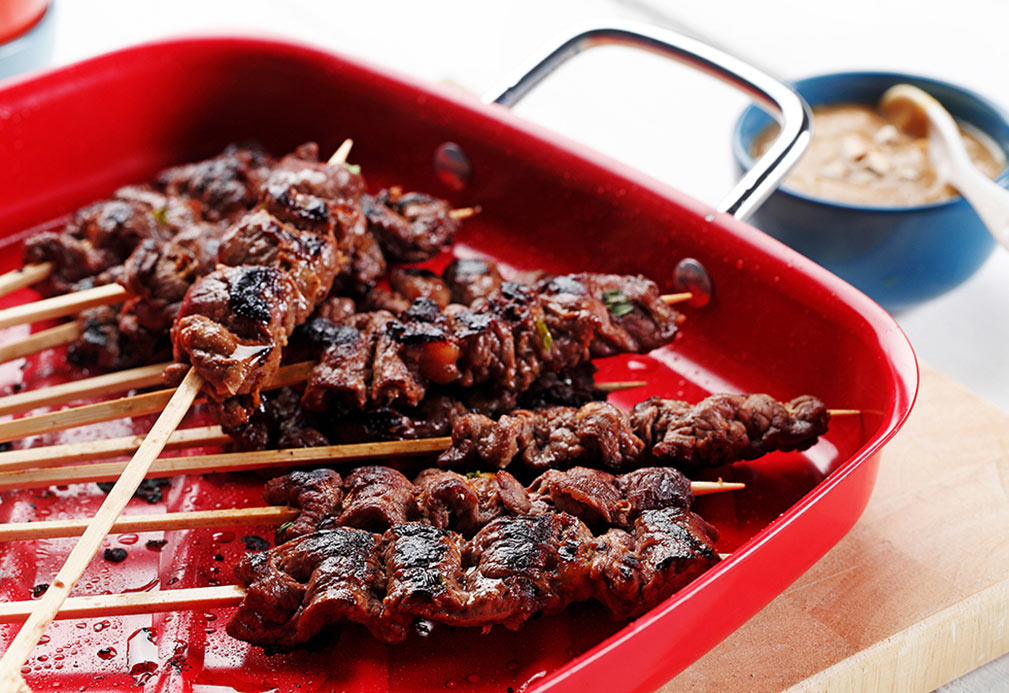 Ingredients
Satay:
1 1/2 lb flank or sirloin steak, trimmed of excess fat 750 g
1/2 cup orange juice 125 mL
2 Tbsp soy sauce 30 mL
1 Tbsp brown sugar or honey 15 mL
1 Tbsp grated ginger 15 mL
4 garlic cloves, crushed
2 Tbsp lime juice 30 mL
1 Tbsp canola oil 15 mL
2 green onions, finely chopped 
Peanut Sauce:
1/4 cup natural peanut butter, warmed 60 mL
2 Tbsp rice vinegar or lime juice 30 mL
2 Tbsp water 30 mL
1 Tbsp canola oil 15 mL
1 Tbsp soy sauce 15 mL
1 Tbsp brown sugar or honey 15 mL
2 tsp finely grated ginger 10 mL
1 garlic clove, finely crushed
1/4 tsp curry powder or paste 1 mL
Instructions
1. Thinly slice steak across grain and place in bowl, plastic container or heavy-duty resealable bag. Add remaining satay ingredients and stir or squeeze bag around to combine. Cover or seal and refrigerate for at least an hour or overnight. 
2. To make peanut sauce: In small bowl, combine all ingredients with a whisk. 
3. Soak about 16 bamboo skewers for at least 15 minutes. When you're ready to cook, preheat grill to medium or turn on oven broiler. Onto each bamboo skewer, thread one piece of beef, weaving back and forth in S-shape. 
4. Broil on parchment-lined baking sheet or grill for several minutes per side, turning as needed until beef is golden and cooked through.
5. Serve immediately with peanut sauce for dipping.  
Tips: Steak can be frozen in its marinade for up to 4 months. To thaw it, put it in a bowl in the refrigerator overnight. Peanut sauce can be made ahead and refrigerated for up to 4 days.
Yield
8 servings
serving size
2 skewers and 2 Tbsp (30 mL) sauce
nutritional analysis
Per Serving
Calories
220
Total Fat
12 g
Saturated Fat
2.5 g
Cholesterol
50 mg
Carbohydrates
8 g
Fiber
1 g
Protein
21 g
Sodium
420 mg