Shrimp Pad Thai
Here is a Thai restaurant favorite that's simple enough to make in your own kitchen. Added bonus: you can control the spice level.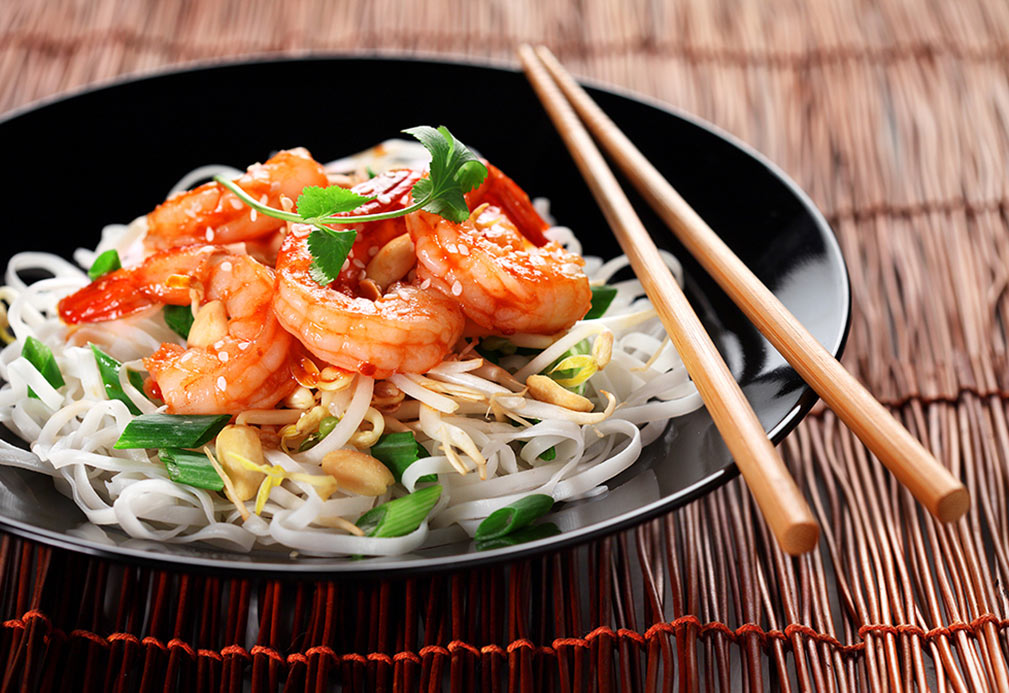 Ingredients
1/4 cup chili sauce 60 mL
3 Tbsp lime juice 45 mL
3 Tbsp low-sodium soy sauce 45 mL
1 Tbsp brown sugar 15 mL
1 tsp anchovy paste 5 mL
2 Tbsp canola oil 45 mL
2 cloves garlic, minced
1 lb medium raw shrimp, peeled and deveined 500 g
6 oz rice noodles 170 g
1 Tbsp canola oil 15 mL
3 cups bean sprouts 750 mL
8 green onions, cut diagonally
1 egg white, lightly beaten
Garnishes
Additional bean sprouts for garnish
2 Tbsp finely chopped dry-roasted peanuts 45 mL
Fresh cilantro leaves for garnish
4 lime wedges
Instructions
1. In small bowl, whisk together chili sauce, lime juice, soy sauce, brown sugar and anchovy paste. Set aside.
2. In large non-stick skillet, heat 2 Tbsp (30 mL) canola oil over medium-high heat. Add garlic, stir and cook about 30 seconds. Add shrimp and cook until opaque throughout, about 3 minutes. Transfer shrimp to plate.
3. Meanwhile, soak rice noodles in boiling water until softened, about 3 minutes. Drain.
4. Add remaining tablespoon of canola oil to skillet. Add noodles, chili sauce mixture and heat through, about 1 minute. Add bean sprouts, green onions and shrimp. Pour in egg white. Toss until noodles are coated, about 2 minutes.
5. Serve topped with garnishes.
Yield
6 servings
serving size
1 cup (250 mL)
nutritional analysis
Per Serving
Calories
350
Total Fat
9 g
Saturated Fat
1 g
Cholesterol
150 mg
Carbohydrates
46 g
Fiber
2 g
Protein
21 g
Sodium
930 mg