Steamed Snapper with Citrus Sweet and Sour Sauce
Using both traditional and unique ingredients for Japanese cuisine, this fish dish combines ginger and cilantro with a tangy sauce for a medley of flavors and aromas.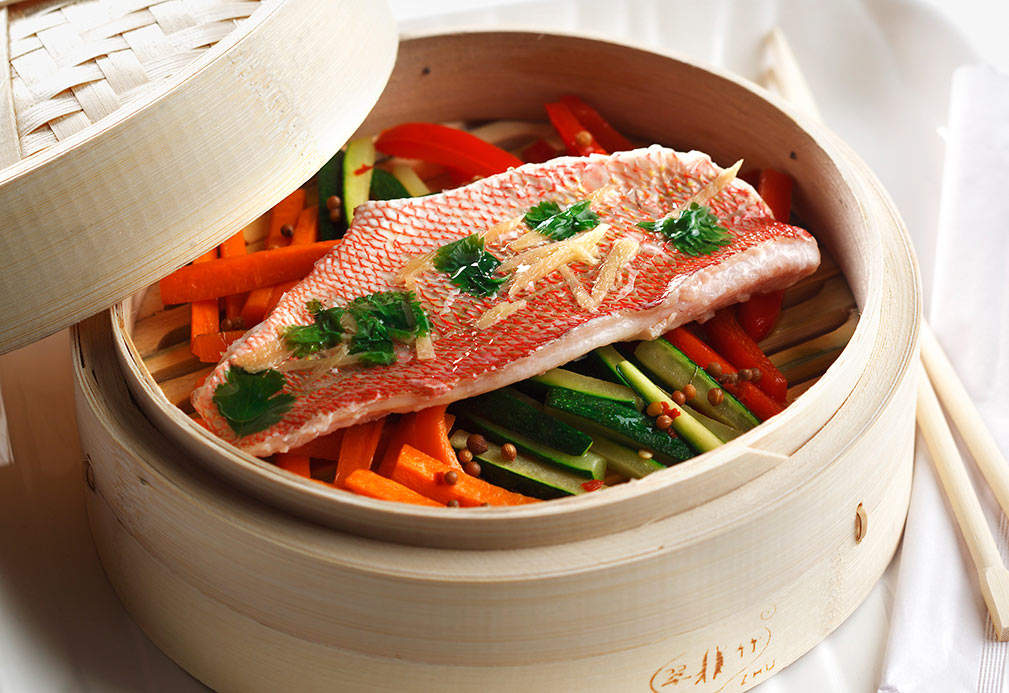 Ingredients
Citrus Sweet and Sour Sauce
1/2 cup lime juice 125 mL
1/2 cup rice vinegar 125 mL
2 Tbsp granulated sugar 30 mL
1/4 tsp red chile flakes 1 mL
1 tsp coriander seeds 5 mL
1/2 cup white wine 125 mL
2 cilantro stems, leaves removed and reserved for later use
Fish and Vegetables
4 snapper fillets, skin on, deboned, about 4 oz (125 g) each
1/4 cup fresh ginger, peeled and julienned ultra thin 60 mL
20 leaves fresh cilantro
2 Tbsp (30 mL) to divide plus 1 tsp (5mL)  canola oil, 35 mL
2 carrots, cut into 2 x 1/4-inch (5 x 0.6 cm) pieces
2 zucchini, cut into 2 x 1/4-inch (5 x 0.6 cm) pieces
2 red bell peppers, cut into 2 x 1/4-inch (5 x 0.6 cm) pieces
Instructions
1. In saucepan, add sauce ingredients. Simmer on medium heat 5 to 8 minutes or until sugar has fully dissolved. Remove cilantro stems and set aside.
2. Preheat steamer. Lay out each snapper fillet skin side up and sprinkle even amounts of ginger and spread five cilantro leaves on top of each fillet. Place fish in steamer skin side up and cook on high 6 to 8 minutes.
3. Meanwhile, add 1 Tbsp (15 mL) canola oil to hot sauté pan and cook carrots 3 minutes. Add zucchini and bell pepper and cook until tender. Set aside and keep warm.
4. Pour 1/4 cup (60 mL) sauce on serving dish and arrange vegetables in alternating rows. Place steamed fish on top, skin side down. Heat remaining 1 Tbsp plus 1 tsp (20 mL) canola oil until very hot and spoon 1 tsp (5 mL) over each fish fillet (be cautious as canola oil will splash). Serve hot.
Yield
4 servings
serving size
1 fish fillet
nutritional analysis
Per Serving
Calories
270
Total Fat
10 g
Saturated Fat
1 g
Cholesterol
40 mg
Carbohydrates
16 g
Fiber
2 g
Protein
24 g
Sodium
90 mg