Szechuan Veggie Tacos
It's a fiesta! Enjoy these unique tacos with a twist featuring daikon (Japanese radish) and rice wine vinegar. Canola oil allows the spicy-sweet flavors to shine.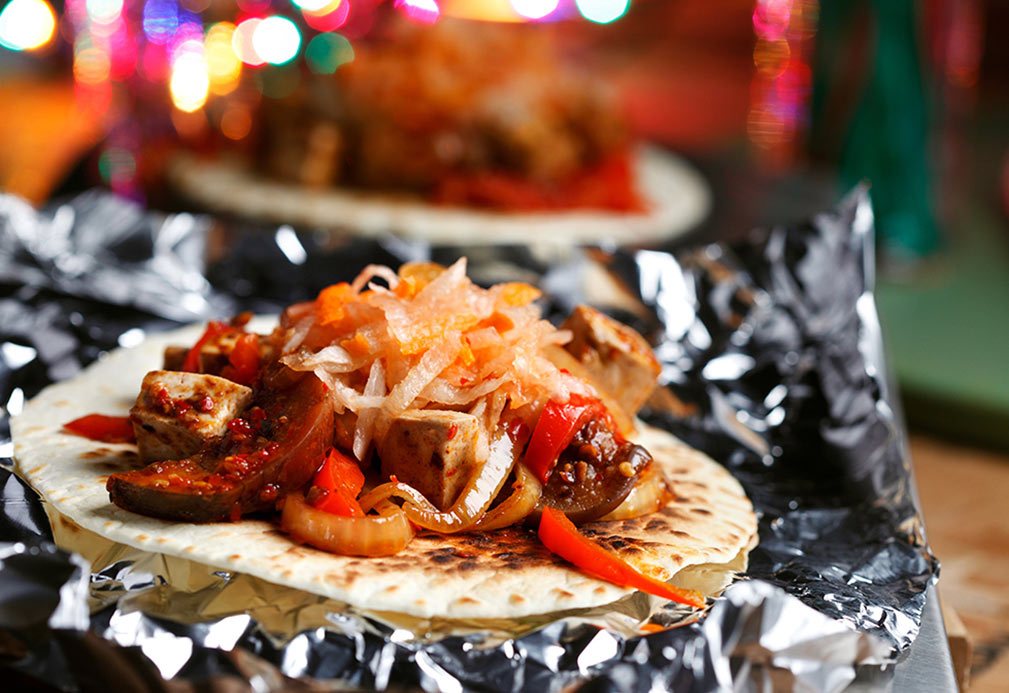 Ingredients
Daikon Salad
2 cups shredded daikon 500 mL  
1 cup shredded carrots 250 mL
1/2 tsp sugar, granulated 2 mL
2 Tbsp rice wine vinegar 30 mL
2 Tbsp chili garlic sauce 30 mL
Szechuan Stuffing
1 Tbsp canola oil 15 mL
1 sweet onion, sliced
1 red pepper, sliced
1 purple eggplant, sliced in half moons
1/2 package (14 oz) firm tofu, cubed
2 Tbsp chili garlic sauce 30 mL
2 Tbsp black bean paste 30 mL
Tortillas
16 tortillas (6-inch/15 cm) flour or white corn
1 cup chopped cilantro 250 mL
Instructions
1. To make Daikon Salad: In medium bowl, combine all salad ingredients.
2. To make Szechuan Stuffing: In wok, heat canola oil over high heat. Add onions and peppers and sauté 2 minutes, then add eggplant and stir-fry 1 minute. Add tofu and sauté 1 minute. Add chili garlic sauce and black bean paste; sauté 1 minute. Remove from heat and prepare tortillas.
3. To make Tortilla: Heat tortillas on both sides using griddle or frying pan. Remove and divide Szechuan Stuffing between each tortilla, then top with 2 tbsp (30 mL) Daikon Salad and cilantro. Serve.
Yield
16 tortillas (5 inches/12.5 cm)
serving size
1 tortilla with 1/4 cup (60 mL) Szechuan Stuffing and 2 Tbsp (30 mL) Daikon Salad
nutritional analysis
Per Serving
Calories
150
Total Fat
4.5 g
Saturated Fat
1 g
Cholesterol
0 mg
Carbohydrates
22 g
Fiber
3 g
Sugars
3 g
Protein
5 g
Sodium
370 mg
Potassium
145 mg