Steamed Whole Fish with Ginger and Green Onions
This dish is typically served for Chinese New Year as it symbolizes good wishes. The Cantonese word for "fish" is yu, which also sounds like the word for "wish," thus the two are correlated. Fish also represent marital bliss and fertility, since they commonly swim in pairs. This dish is a simple and practically foolproof technique for cooking delicate fish. The light sauce does not overpower the natural sweetness of the fish. Pouring hot canola oil over it to finish, a traditional technique, brings the sauce together and glazes the fish.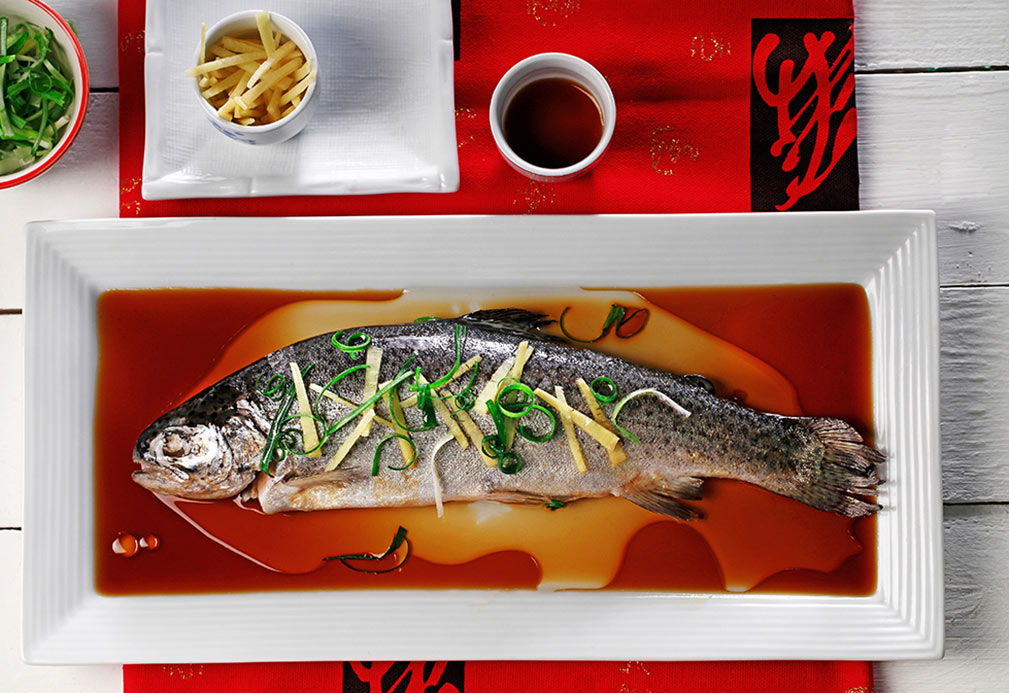 Ingredients
1 whole fish (2lb/750g to 1Kg), such as cod, snapper or salmon*, washed and cleaned with head and tail intact
1 1/2 tsp salt 7 mL
8 sprigs fresh cilantro, torn
1 1-inch (2.5-cm) thickly sliced fresh ginger, lightly smashed
2 garlic cloves, peeled
2 whole green onions, cut into thirds
2 Tbsp canola oil 30 mL
2 tsp salt 10 mL
2 tsp sugar 10 mL
2 Tbsp Chinese white rice wine (substitute with gin or dry sherry) 30 mL 
Sauce
3 Tbsp light soy sauce 45 mL
2 tsp granulated sugar 10 mL
1 Tbsp dry sherry 15 mL
2 Tbsp fresh ginger, finely julienned 30 mL
2 green onions, finely julienned
3 Tbsp canola oil 45 mL 
Instructions
1. Thoroughly wash and rinse fish, drain and pat dry. Rub salt gently through cavity and outside of fish and rinse again. Place on baking rack to drain.
2. Use large enough saucepan to hold fish and add about 1 1/2 inches (4 cm) cold water. Add cilantro, ginger, garlic, green onions, 2 Tbsp (30 mL) canola oil, salt, sugar and rice wine and bring to a boil. When poaching liquid is rapidly boiling, add fish, cover and return to a boil. Cook 1 minute, covered, and then reduce heat to low and simmer 5 minutes. Turn off heat and allow fish to rest 4 minutes, covered. To test for doneness, poke thickest part of fish with fork or chopstick; fish should flake easily.*
3. Carefully remove whole fish from saucepan and transfer to warm serving platter. In small saucepan, heat soy sauce, sugar and sherry. Pour over fish and garnish with ginger and green onion. Heat canola oil over high heat until hot but not smoking. Carefully pour hot oil over fish and serve immediately.
Tips: A delicate textured fish such as rock cod is recommended, but a small salmon, large salmon fillet or trout are good substitutes. Most Chinese prefer their fish slightly underdone to keep flesh moist and succulent. If you prefer well-done fish, allow it to simmer another 2 minutes, covered, after step 2.
Yield
8 servings
serving size
4 oz (125 g) fish
nutritional analysis
Per Serving
Calories
190
Total Fat
10 g
Saturated Fat
1 g
Cholesterol
50 mg
Carbohydrates
4 g
Fiber
0 g
Protein
20 g
Sodium
1450 mg