Mahi Mahi with Pineapple Salsa
This mahi-mahi tastes like summer with the combination of mint and pineapple. Canola oil's light taste helps those fresh flavors stay bright.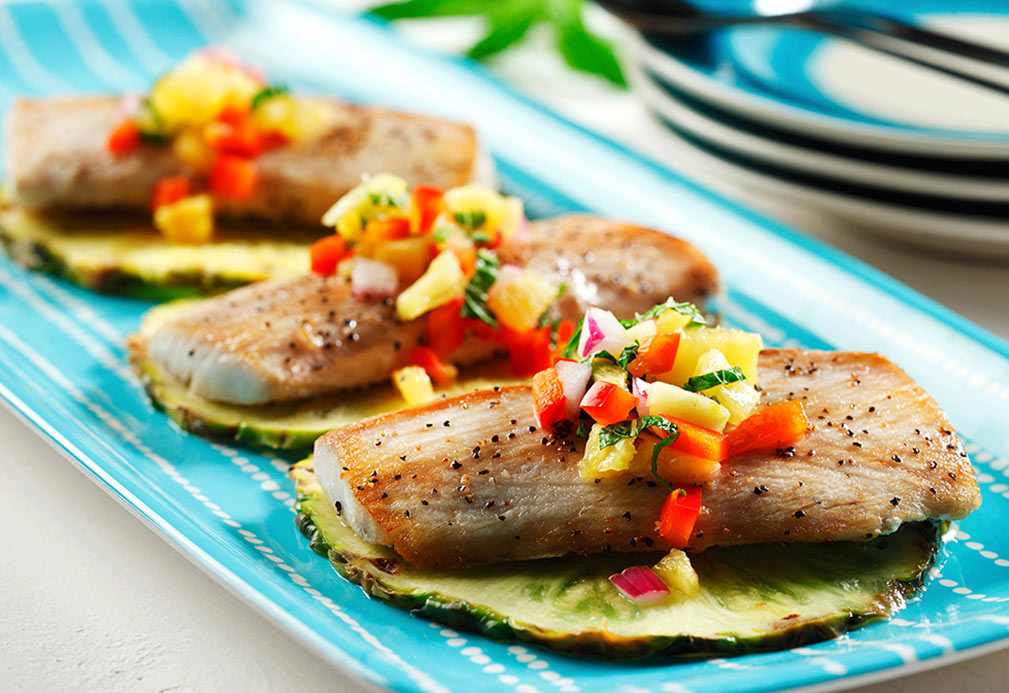 Ingredients
1 1/2 cup diced fresh pineapple 375 mL
1/4 cup chopped red onion 60 mL
1/2 cup diced, seeded red bell pepper 125 mL
1 Tbsp chopped fresh mint 15 mL
1 Tbsp fresh lime juice 15 mL
1 Tbsp canola oil 15 mL
4 mahi-mahi fillets (6 oz/170 g each)
1/4 tsp freshly ground pepper 1 mL 
Instructions
1. In bowl, combine pineapple, onion, red pepper, mint and lime juice; refrigerate until ready to serve.
2. In nonstick skillet, heat canola oil over medium heat. Add fish and sprinkle with pepper. Cook 3-5 minutes. Turn and cook additional 3-5 minutes or until desired doneness.
3. Top fish with pineapple salsa and serve.
Yield
4 Servings
serving size
1 fillet mahi-mahi (6 oz/170 g) and 1/2 cup (125 mL) salsa
nutritional analysis
Per Serving
Calories
220
Total Fat
5 g
Saturated Fat
0.5 g
Cholesterol
125 mg
Carbohydrates
11 g
Fiber
1 g
Sugars
7 g
Protein
32 g
Sodium
150 mg
Potassium
836 mg