Strawberry and Mango Salad with Citrus Vinaigrette
Canola oil's mild flavor make it a great choice for recipes that you want the flavors of the ingredients to shine through and not be masked by a strongly tasting oil.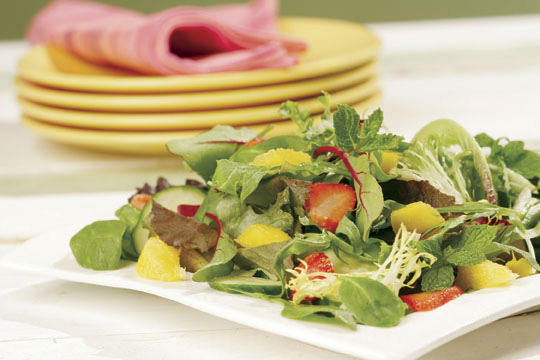 Ingredients
Strawberry and Mango Salad with Citrus Vinaigrette
1 (5oz/142g) bag mixed salad greens
3 cups sliced strawberries 750 mL
1 English cucumber, quartered and diced
1 large mango, peeled and diced
1 large orange, peeled, pith removed and sectioned
1/4 cup finely chopped fresh mint 60 mL
Vinaigrette
2 Tbsp white vinegar 30 mL
1 Tbsp lemon juice 15 mL
1/4 cup orange juice 60 mL
3 Tbsp canola oil 45 mL
1 Tbsp granulated sugar 15 mL
salt and pepper to taste
Instructions
1. In a bowl, combine well-washed salad greens, strawberries, cucumber, mango, orange and mint. Toss lightly.
2. In a small bowl, whisk together vinegar, lemon juice, orange juice, canola oil, sugar and salt and pepper. Pour desired amount of dressing over top of salad and toss lightly. Serve immediately.
Yield
8 servings
serving size
nutritional analysis
Per Serving
Calories
110
Total Fat
6 g
Saturated Fat
0 g
Cholesterol
0 mg
Carbohydrates
16 g
Fiber
3 g
Protein
1 g
Sodium
5 mg