Strawberry Shortcake
This recipe celebrates summer with all the luscious flavors you expect from this all-time favorite dessert, but in a healthier and easier way. The biscuits are made better-for-you with canola oil instead of butter and half whole-grain flour. They are simple drop biscuits; no rolling or dough-cutting required. And the whipped cream topping is lightened with Greek yogurt for a subtle tanginess that beautifully complements the fresh berries.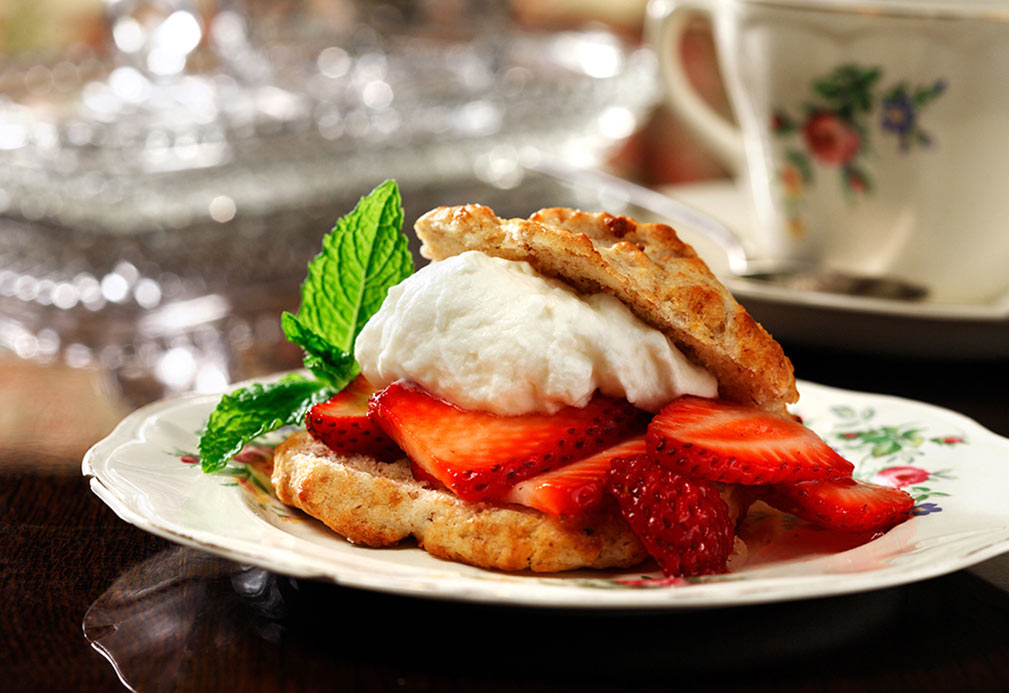 Ingredients
Topping
16 ounces strawberries 500 g
1 Tbsp honey 15 mL
1/2 cup heavy whipping cream 125 mL
2 Tbsp confectioners' sugar 30 mL
1/2 cup non-fat, plain Greek yogurt 125 mL
1 tsp pure vanilla extract 5 mL
Biscuits
1/2 cup whole-wheat pastry flour* 125 mL
1/2 cup all-purpose flour 125 mL
1 Tbsp sugar 15 mL
1 tsp baking powder 5 mL
1/4 tsp baking soda 1 mL
1/8 tsp salt 0.5 mL
2/3 cup low-fat buttermilk 150 mL
1/4 cup canola oil 60 mL
Instructions
1. Wash, hull and slice strawberries and place in large bowl. Drizzle with honey, then toss to combine. Cover and place in refrigerator until ready to serve, at least 1 hour and up to 1 day.
2. Whip cream with electric mixer until thickened. Add sugar and continue beating until soft peaks are formed. Gently fold in yogurt and vanilla. Cover and place in refrigerator until ready to serve. Cream can be made up to a day ahead.
3. Preheat oven to 425°F (220°C). Line baking sheet with parchment paper. 
4. In medium bowl, whisk together whole-wheat pastry flour, all-purpose flour, sugar, baking powder, baking soda and salt. In another medium bowl, whisk together buttermilk and canola oil. 
5. Combine dry and wet mixtures and stir until just moistened. Do not over mix. Drop batter into eight mounds onto prepared baking sheet and bake until golden brown, about 10 minutes.
6. To serve, using serrated knife, gently cut warm biscuits in half horizontally. Place each bottom half on plate, top with about 1/3 cup (75 mL) strawberries with their accumulated juice and large dollop of whipped topping. Cap with top halves of biscuits and serve. 
Note: Whole-wheat, all-purpose flour can be substituted for whole-wheat pastry flour.
Yield
8 servings
serving size
1 biscuit, 1/3 cup (75 mL) strawberries, 3 Tbsp (45 mL) cream
nutritional analysis
Per Serving
Calories
230
Total Fat
13 g
Saturated Fat
4 g
Cholesterol
20 mg
Carbohydrates
24 g
Fiber
2 g
Protein
4 g
Sodium
170 mg