Sweet and Simple Canola Cookies
Baking with canola oil can reduce your saturated fat intake.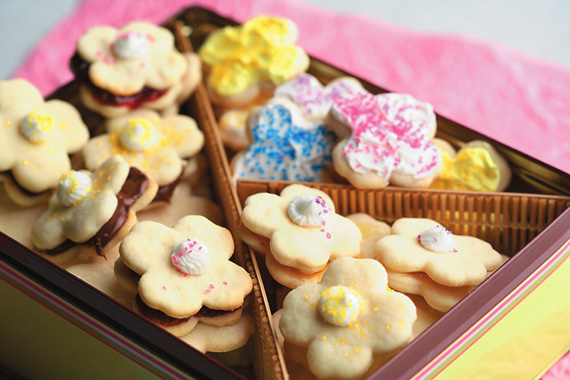 Ingredients
1/3 cup canola oil 75 mL
1 (10oz/300 mL) can sweetened condensed milk
2 tsp vanilla extract 10 mL
2 eggs
3 cups all purpose flour 750 mL
1 Tbsp baking powder 15 mL
1/2 tsp salt
Decorative Icing
1/4 cup meringue powder 60 mL
1/2 cup water 125 mL
4 1/2 cups icing sugar 1.125 L
Instructions
1. Preheat oven to 350 °F (180 °C).
2. Combine canola oil, sweetened condensed milk, vanilla and eggs. Add flour, baking powder and salt. The mixture will be sticky. Separate the mixture into three equal sized balls. Wrap each ball with plastic wrap.
3. Refrigerate for 1 hour or freeze for 10 to 15 minutes. Remove from refrigerator or freezer and let stand for 2 minutes. Turn dough on a floured surface and knead 10 times. Roll out and cut into shapes. Bake for 8 to 12 minutes until brown on the bottom. Cool cookies completely before you decorate.
4. Decorative Icing: Combine meringue powder and water and beat for 2 minutes. Add the icing sugar 1 cup (250 mL) at a time and continue to beat for 5 minutes. Add food coloring, if desired.
Variation: Reduce flour by 1/2 to 1 cup (125 to 250 mL). Add 1 1/2 cups (375 mL) of finely crushed almonds. Substitute almond flavoring for vanilla extract.
Yield
3 to 6 dozen cookies depending on the size of your cookie cutter
serving size
1 cookie
nutritional analysis
Per Serving
Calories
110
Total Fat
2.5 g
Saturated Fat
0.5 g
Cholesterol
10 mg
Carbohydrates
21 g
Fiber
0 g
Protein
2 g
Sodium
60 mg