Sweet Potato Fries with Cajun Dipping Sauce
A tasty appetizer or side dish!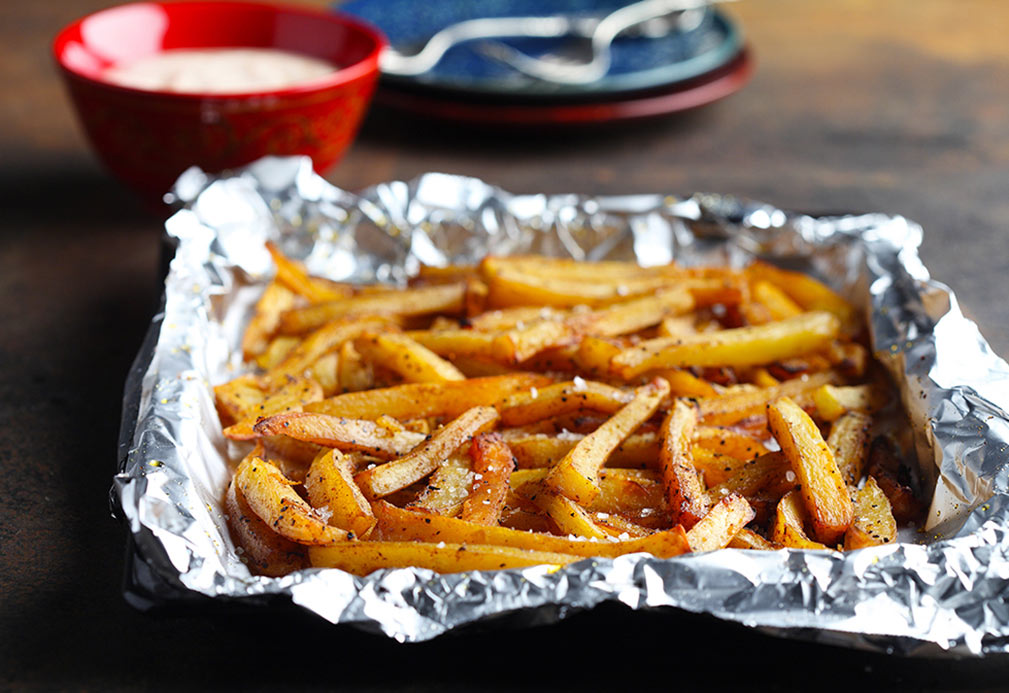 Ingredients
Fries
1 1/2 lb/750 g sweet potatoes, peeled, cut in half crosswise, then cut into 1/2-inch (1.25 cm) slices and finally into 1/2-inch (1.25 cm) strips (to resemble fries) 750 g
2 Tbsp canola oil 30 mL
1 tsp smoked paprika 5 mL
1/2 tsp coarsely ground black pepper 2 mL
Cajun Dipping Sauce
3/4 cup fat-free sour cream 175 mL
1 Tbsp Louisiana hot sauce 15 mL
1 medium garlic clove, minced
Instructions
1. Preheat oven to 450 °F (230 °C). Line large baking sheet with aluminum foil. Place potatoes in large bowl. Drizzle canola oil over sweet potatoes and toss gently, set thoroughly to coat. Sprinkle with paprika and black pepper and toss gently.
2. Arrange sweet potatoes in single layer on baking sheet. Bake 30-35 minutes, stirring after 20 minutes or until beginning to richly brown.
3. Serve immediately for peak flavor and texture.
Yield
6 servings
serving size
1/2 cup (125 mL) fries, 2 Tbsp (30 mL) sauce
nutritional analysis
Per Serving
Calories
140
Total Fat
5 g
Saturated Fat
0.5 g
Cholesterol
5 mg
Carbohydrates
20 g
Fiber
2 g
Protein
3 g
Sodium
260 mg
Potassium
403 mg