Tempura Batter
Japanese cooking is perhaps the most delicate and disiplined of Asian cuisines. It is aesthetically pleasing and dedicated to the artistry of food presentation.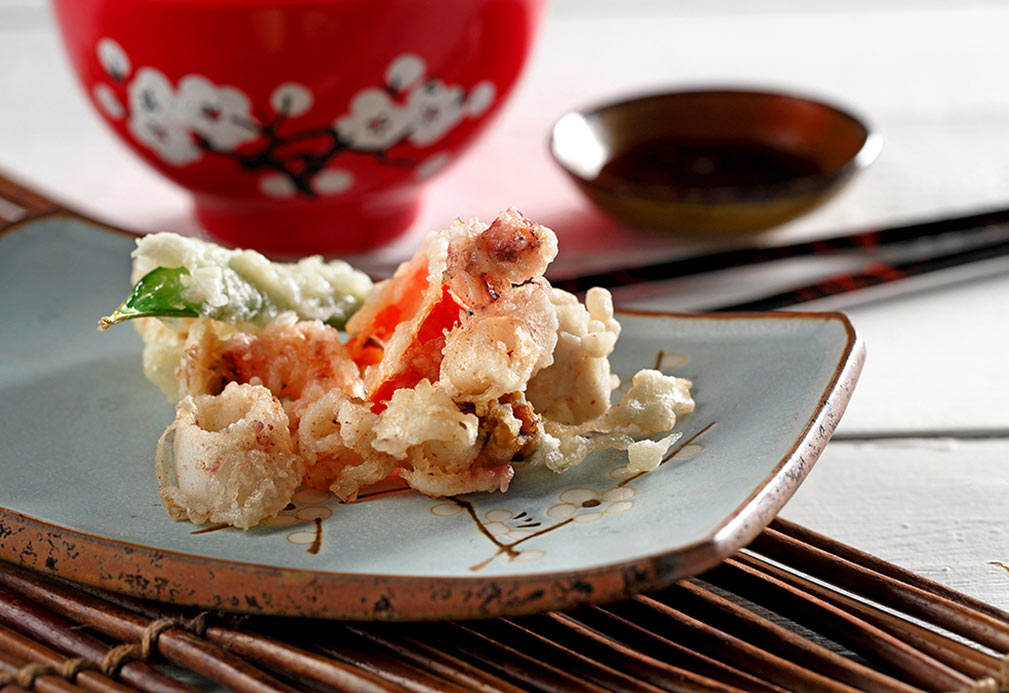 Ingredients
Batter
1 egg yolk, at room temperature
1 1/4 cups ice water 300 mL
1 cup all purpose flour 250 mL
1/4 tsp salt 1 mL
1/4 tsp white pepper 1 mL
1/2 lb seafood, cut into bite-size pieces 250g
1/2 lb chicken, cut into bite-size pieces 250g
cauliflower, snow peas, sliced carrots, red or green bell pepper strips, bean beans and thin asparagus, cut into bite-size pieces
3 cups canola oil 750 mL
Teriyaki Sauce
1/2 cup soy sauce 125 mL
1 clove garlic, minced
1 Tbsp brown sugar 15 mL
1 tsp fresh ginger, minced 5 mL
1/4 cup sake, dry sherry or apple juice 60 mL
Instructions
1. To make Batter: Beat egg yolk with fork, add cold water and mix well. Add flour and just stir to combine. Batter should be quite thin, about the consistency of cream. Add more ice water if necessary. Mixture should leave just a thin coating on seafood or vegetables when dipped.
2. Blot dry prepared vegetables, chicken or seafood in a paper towel and then roll in flour. Dip into the tempura batter and deep fry immediately in hot canola oil. Serve with Teriyaki Sauce.
3. To make Teriyaki Sauce: In a bowl, combine soy sauce, garlic, sugar, ginger, and sake.
Note: Ensure seafood, chicken and vegetable pieces used are dry and near room temperature before dipping them into the batter.
Yield
6 servings
serving size
3/4 cup(175 mL) meat and 2 tsp (10 mL) sauce
nutritional analysis
Based on a serving with battered fish and chicken
Calories
370
Total Fat
26 g
Saturated Fat
3 g
Cholesterol
75 mg
Carbohydrates
17 g
Fiber
0 g
Sugars
2 g
Protein
18 g
Sodium
420 mg
Potassium
292 mg