Tomatillo, Bean and Chicken Chili
Serve this easy-to-make chili at your next casual get-together.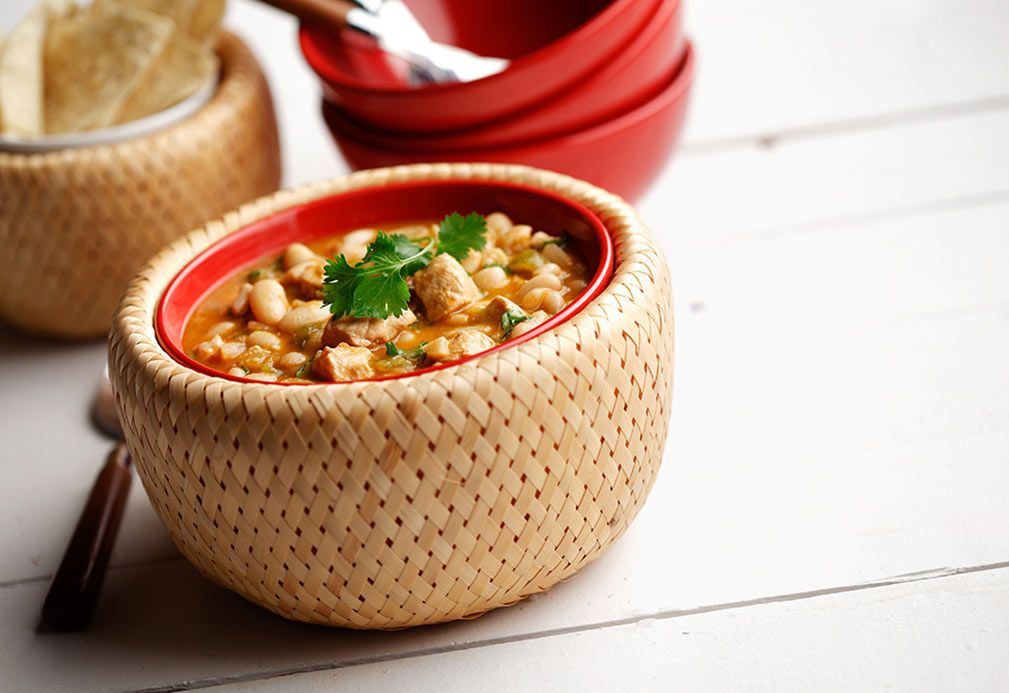 Ingredients
2 Tbsp canola oil 30 mL
1 large onion, diced
2 cloves garlic, minced
3 chicken breasts, cubed into bite size pieces
8 tomatillos, husked and finely chopped
1 jalapeno pepper, seeded and finely diced
1 Tbsp lime juice 15 mL
1 tsp ground coriander 5 mL
1 tsp ground cumin 5 mL
1 Tbsp chili powder 15 mL
1/2 tsp salt 2 mL
1/4 tsp pepper 1 mL
2 cups chicken broth 500 mL
2 cans (19 oz/540 mL) cannellini beans
2 Tbsp freshly chopped cilantro 30 mL
Cilantro for garnish
Instructions
1. Pour canola oil into large saucepan. Sauté onion and garlic over low heat for 1-2 minutes. Add chicken and continue to cook until chicken is lightly browned, about 4-5 minutes.
2. Combine tomatillos, jalapeno, lime juice, coriander, cumin, chili powder, salt, pepper, chicken broth, beans and chopped cilantro with chicken. Mix well, cover saucepan and cook over medium-low heat for 25-30 minutes, until mixture has thickened.
3. Garnish with cilantro and serve.
Yield
8 servings
serving size
1 cup (250 mL)
nutritional analysis
Per Serving
Calories
310
Total Fat
7 g
Saturated Fat
1 g
Cholesterol
30 mg
Carbohydrates
42 g
Fiber
2 g
Protein
22 g
Sodium
220 mg