Chili Con Carne
This is a hearty dish that works great with a side of cornbread. Add some shredded cheddar on top for more flavor!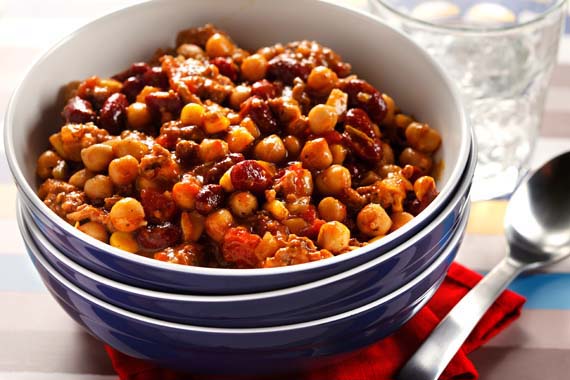 Ingredients
2 Tbsp canola oil 30 mL
1 lb lean ground beef 500g
1 medium onion, diced
3 cloves garlic, chopped
10 oz tomato soup 284 mL
14 oz can diced tomatoes 398 mL
19 oz can kidney beans 540 mL
19 oz can chickpeas 540 mL
1 cup frozen corn 250 mL
4.5 oz can green chilies 127 mL
2 tsp chili powder 10 mL
1 Tbsp  dried oregano 15 mL
1 tsp dried basil 5 mL
1 Tbsp pepper 15 mL
1/2 tsp salt 2 mL
1 tsp red pepper flakes 5 mL
Instructions
1. Heat canola oil over medium to high heat in a heavy bottom pot.
2. Add ground beef and thoroughly brown. Add onions and garlic. Saute until onions are clear. Add tomato soup, diced tomatoes, kidney beans and chickpeas. Heat over medium heat until it begins to simmer, stir often. Stir in remaining ingredients, reduce heat to low and simmer for 30 minutes. Serve.
Yield
8 servings
serving size
nutritional analysis
Per Serving
Calories
350
Total Fat
10 g
Saturated Fat
2.5 g
Cholesterol
35 mg
Carbohydrates
43 g
Fiber
15 g
Protein
23 g
Sodium
430 mg