Tunisian Spiced Chicken Skewers
Recipe developed at The Culinary Institute of America (CIA) by Chef Instructor Brenda La Noue. See Chef Almir Da Fonseca prepare the recipe in the video.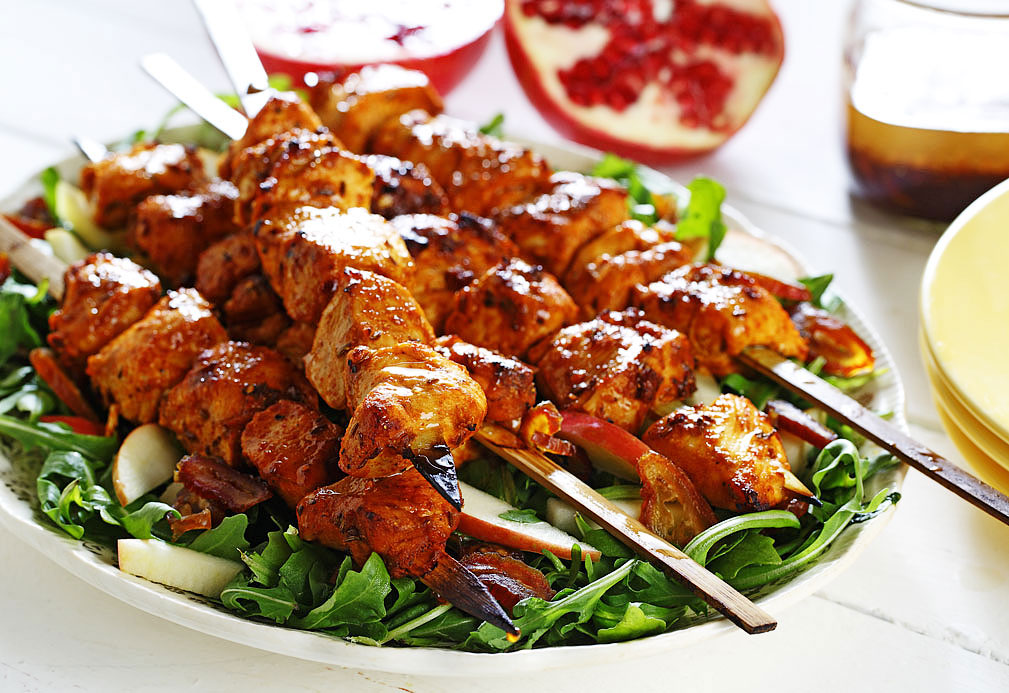 Ingredients
Chicken skewers
2 Tbsp canola oil
2 Tbsp lemon juice
2 garlic cloves, minced
1 tsp fresh ginger, minced
1 Tbsp paprika
1 Tbsp coriander seeds, ground
1 tsp caraway seeds
1/4 tsp red hot pepper, ground
1/4 tsp curry powder
1/4 tsp cayenne or chili flakes
1/2 tsp black pepper, freshly ground
1 lb chicken breast, cut 1 x 2 x 1/4 inch
Pomegranate dressing
1 Tbsp shallot, minced
2 Tbsp white wine vinegar
1/4 cup pomegranate juice
1 Tbsp pomegranate molasses
1 Tbsp lemon juice
2 tsp orange zest
6 Tbsp canola oil
1/4 tsp salt
1/4 tsp pepper
1 cup arugula
1/4 cup dates,1/4 inch slices
2 apples,1/2 inch dice
Instructions
1. For the dressing: Combine the shallots and vinegar. Let sit for 5 minutes Add the pomegranate juice and molasses, lemon juice, and orange zest. Whisk in the canola oil. Adjust the seasoning with salt and pepper.
2. For the skewers: Mix all ingredients thoroughly and coat the meat well with the mixture. Marinate at least 2 hours before grilling. Skewer chicken.
3. Grill over medium-high heat until the juices run clear.
4. Place the arugula in a bowl and add the dates, apples, and salt. Add enough of the dressing to lightly coat. Place on a plate with 2 to 4 skewers of chicken. Drizzle some of remaining dressing around the plate.
Yield
4 portions
serving size
nutritional analysis
Calories
580
Total Fat
33 g
Saturated Fat
4 g
Cholesterol
95 mg
Carbohydrates
36 g
Fiber
5 g
Sugars
25 g
Protein
37 g
Sodium
240 mg
Potassium
676 mg