Turkey Burger Casserole with Parsnip and Carrot Frites
This casserole gets its wow factor from carrot and parsnips cut into matchstick fries, tossed with canola oil and baked until crispy and golden. The light texture and neutral taste of canola oil allows for the carrots and parsnips to get crispy while the flavors shine through. The frites are also good alone as a side dish or appetizer.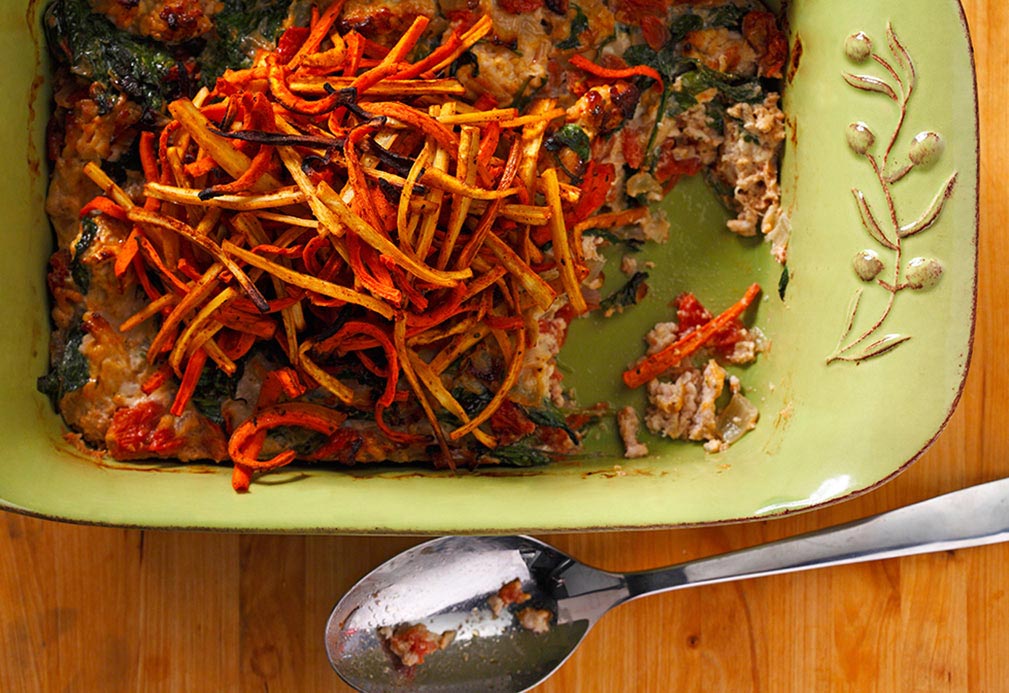 Ingredients
Frites
6 large parsnips, cut into matchsticks
6 large carrots, cut into matchsticks
1 Tbsp canola oil 15 mL
1 Tbsp chili powder 15 mL
1/2 tsp black pepper 2 mL
Turkey Burger Casserole
1 Tbsp canola oil 15 mL
1 medium onion, chopped
4 cloves garlic, minced
1 lb ground lean turkey 500 g
1 can (15 oz/426 mL) canned low-sodium diced tomatoes, drained
4 cups baby spinach 1 L
canola oil cooking spray
2 eggs, whisked
Instructions
1. Preheat oven to 400 °F (200 °C).
2. To prepare frites: Toss parsnip and carrot matchsticks with canola oil, chili powder and pepper. Set aside.
3. In large, non-stick skillet over medium heat, sauté canola oil, onion, garlic and turkey for 5 minutes or until turkey is browned. Add tomatoes and spinach and sauté 5 more minutes.
4. Mist 1.5-quart baking dish with canola oil cooking spray. Take mixture off heat, stir in eggs and pour into baking dish. Stack frites on top of turkey mixture and bake 30 to 40 minutes or until frites are golden and crispy. Serve.
Yield
6 servings
serving size
3/4 cup (175 mL) turkey burger casserole and 1 cup (250 mL) frites
nutritional analysis
Per Serving
Calories
240
Total Fat
8 g
Saturated Fat
1 g
Cholesterol
90 mg
Carbohydrates
22 g
Fiber
6 g
Sugars
8 g
Protein
23 g
Sodium
180 mg
Potassium
445 mg