Walnut and Flax Carrot Cookies
Part cookie and part muffin, these soft cookies are loaded with cinnamon.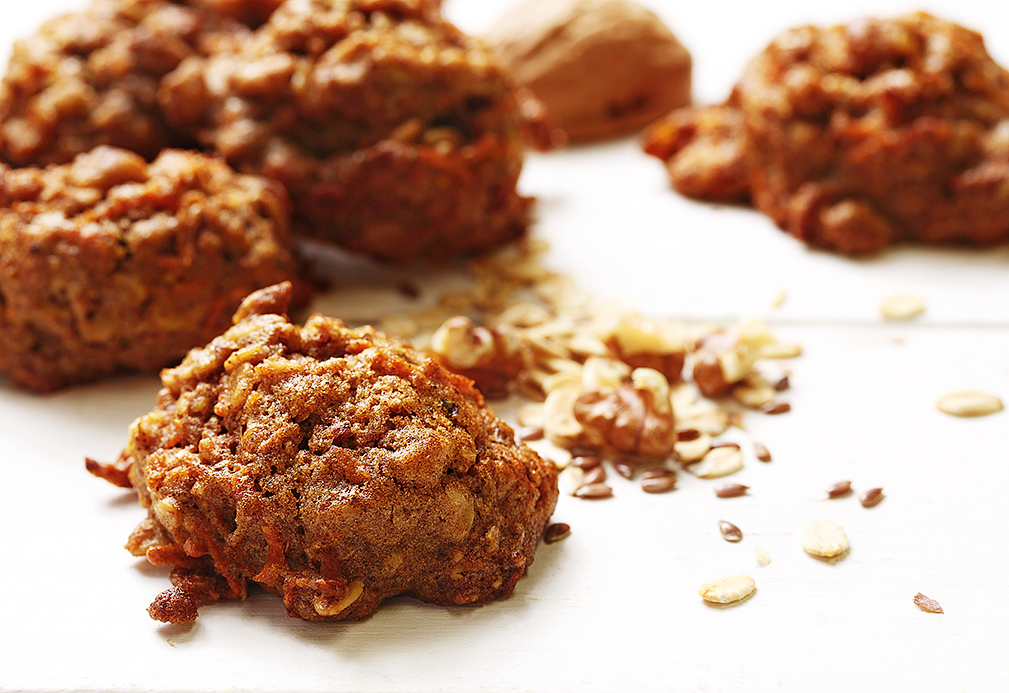 Ingredients
1/2 cup canola oil 125 mL
2/3 cup brown sugar, lightly packed 150 mL
1 egg
1 tsp pure vanilla extract 5 mL
3/4 cup whole-wheat or all-purpose gluten-free flour 175 mL
3/4 cup rolled oats 175 mL
1/4 cup ground flaxseed 60 mL
1/2 cup chopped toasted walnuts 125 mL
2 tsp cinnamon 10 mL
1/4 tsp baking soda 1 mL
1 cup finely grated carrots, packed 250 mL
Instructions
1. Preheat oven to 350ᵒF (180ᵒC). Line baking sheet with parchment paper.
2. In mixing bowl, beat together canola oil, sugar, egg, and vanilla.
3. In separate bowl, toss together flour, oats, flaxseed, walnuts, cinnamon, and baking soda.
4. Add dry ingredients and carrots to the wet ingredients and stir well by hand to combine.
5. Scoop tablespoon-sized portions and place on cookie sheet, about 2 in. (5-cm) apart. Bake for 13–15 minutes.
Yield
24 cookies
serving size
1 cookie
nutritional analysis
Per serving
Calories
110
Total Fat
7 g
Saturated Fat
0.5 g
Cholesterol
10 mg
Carbohydrates
10 g
Fiber
1.4 g
Sugars
4 g
Protein
2 g
Sodium
20 mg
Potassium
65 mg