Breakfast On the Go Cookies
Beat the morning rush with this hearty breakfast cookie. Just grab and go!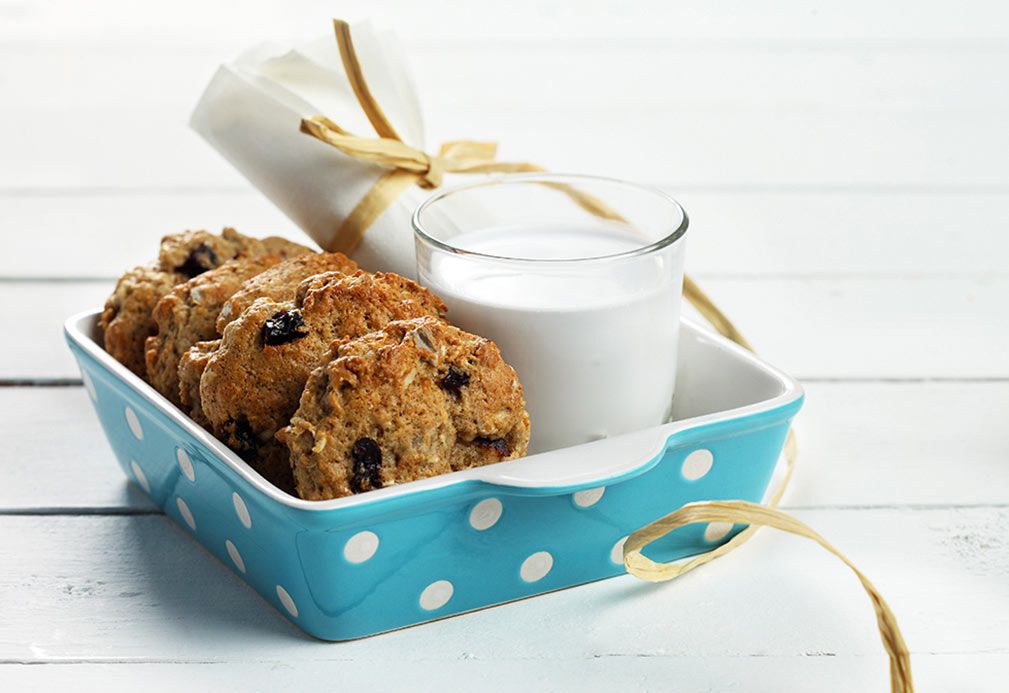 Ingredients
1 cup brown sugar 250 mL  
1/4 cup 7-grain hot cereal 60 mL
1 cup rolled oats 250 mL
1 cup all-purpose flour 250 mL                                    
1 cup whole wheat flour 250 mL                                    
1/2 Tbsp baking soda 7 mL                                              
1/2 tsp baking powder 2 mL  
1/2 tsp salt 2 mL  
1 tsp allspice 5 mL  
1/4 cup canola oil 60 mL
1/4 cup applesauce 60 mL                                                
3 egg whites
1 tsp vanilla extract 5 mL                                    
1/4 cup sunflower seeds 60 mL
1/4 cup slivered almonds 60 mL                                    
1/3 cup chopped dried cherries 75 mL
Instructions
1. Preheat oven to 350 °F (180 °C). Line cookie sheets with parchment paper.
2. In large bowl, stir together sugar, cereal, rolled oats, flours, baking soda, baking powder, salt and allspice.
3. Make well in center and pour in canola oil, applesauce, egg whites and vanilla. Mix until well blended. Stir in sunflower seeds, almonds and cherries. Roll cookies into golf ball-size balls.  Place cookies 2 inches (5 cm) apart onto prepared cookie sheets and flatten to 1/2-inch (1.3-cm) thickness with wet hands. 
4. In preheated oven, bake 8 minutes for chewy cookies. Remove from cookie sheets to cool on wire racks. They store well in freezer.
Yield
24 cookies
serving size
1 cookie
nutritional analysis
Per Serving
Calories
160
Total Fat
4 g
Saturated Fat
0 g
Cholesterol
0 mg
Carbohydrates
23 g
Fiber
2 g
Sugars
11 g
Protein
8 g
Sodium
170 mg
Potassium
146 mg