Wild Mushroom Panini
My favorite thing to eat is a grilled sandwich. Usually more ingredients are in between the bread. This sandwich has it all in the bread.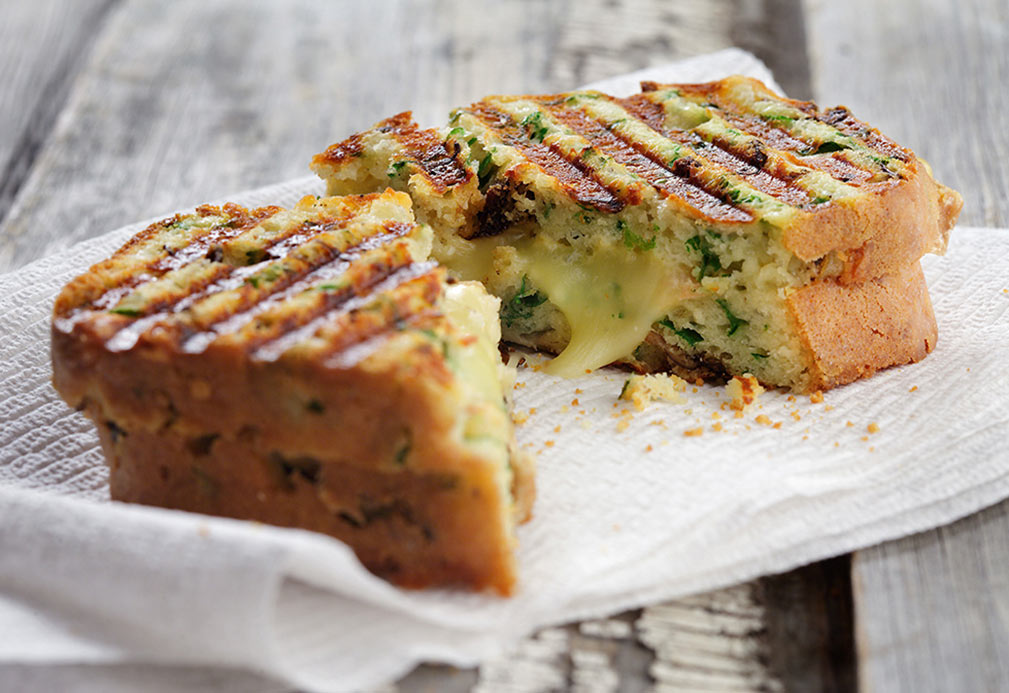 Ingredients
canola oil cooking spray
flour for dusting pan
1 Tbsp canola oil 15 mL
10 oz sliced chanterelle mushroom ( or your favorite variety) 300 g
salt and pepper to taste
1 medium shallot, finely diced
1 1/2 cups all-purpose flour 375 mL
1 Tbsp baking powder 15 mL
3 eggs
1/3 cup canola oil 75 mL
1/2 cup milk 125 mL
1/2 cup grated Parmesan cheese 125 mL
1 cup parsley leaves, roughly chopped 250 mL
3 Tbsp canola oil 45 mL
Dijon mustard
4 to 6 oz Taleggio cheese 115 to 170 g
Instructions
1. Preheat the oven to 350 °F (180 °C). Spray 9 x 5-inch loaf pan with canola oil and dust lightly with flour.
2. In large non-stick skillet, heat canola oil. Add mushrooms and cook over medium low heat until slightly crisp, about 10 to 12 minutes. Season mushrooms with salt and pepper. Add shallots and saute for another minute. Remove from heat and let cool.
3. In large mixing bowl, add flour and baking powder. In second bowl, whisk together eggs, canola oil and milk.
4. Gently mix flour and liquid mixtures together, just until combined. Stir in mushrooms, cheese, parsley, salt and pepper.
5. Pour into loaf pan and bake for about 30 to 40 minutes. Let cool 10 minutes before removing from the pan. Finish cooling bread on wire rack.
6. Slice bread into 1/2 inch (1 cm) slices. To make sandwiches, spread one slice of bread with mustard. Place slice of Taleggio cheese on top and place second slice over cheese. Brush bread with canola oil for even grilling.
7. Preheat panini machine and grill sandwiches until golden brown and cheese is melted.
Yield
8 to 9 sandwiches
serving size
1 sandwich
nutritional analysis
Per Serving
Calories
340
Total Fat
23 g
Saturated Fat
6 g
Cholesterol
95 mg
Carbohydrates
21 g
Fiber
1 g
Protein
13 g
Sodium
640 mg